Day 2 Highlights: Ajyal'13 - Part 1
Nov 28, 2013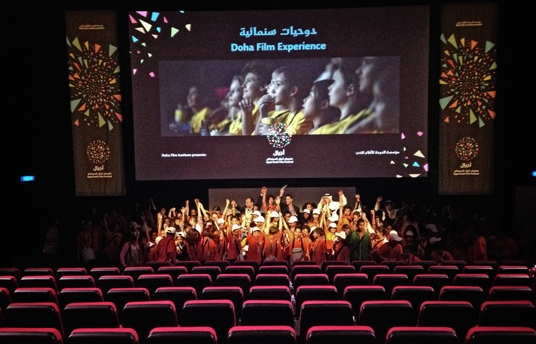 Doha Film Experience Competition – Jury Duty Day 2
It was a big day for Ajyal yesterday. Our Mohaq jurors, who are ages 8 to 12 and the youngest group of film aficionados, began their screening sessions with 'The Painting Pool', followed by an emotional and very moving Q&A session with Iranian director Maziar Miri, which ended with all the kids on stage holding hands in the name of peace.
In the meantime, the older Hilal and Bader jurors watched their second feature films in competition and all together attended a fascinating panel entitled The Enchanting World of Anime', which ties in with our Focus on Anime. Radio presenter Nabil Al Nashar skillfully entertained a cheerful crowd with a number of experts and artists of the Gulf region, offering interesting insight into the world of anime.
Ali Albuainain, president of the Georgetown University Animation Club, gave a brief history of anime, from its early origins (the first excerpts date from 1917) to the first and second generations of anime artists. As he mentioned the first real anime film to hit the big screen 'The White Snake Enchantress' (which screened last night in Ajyal in the wonderful setting of the Sony Open-Air Cinema), he spoke about the great rivalry, but also mutual influence, between Disney and Japanese artists.
Qatari cartoonist Abdulaziz Yousif presentated some of his work, and talked about 'Temsa,' his alter-ego, a character with a green tail and long teeth who can bite anybody. "As a kid I had long teeth and people used to make fun of me". Then, he turned his weakness into something creative and powerful.
Female artist duo Kholoud Al-Ali and Fatima Al Nesf showed the first episode of their adorable animated characters Kholoud and Fatoom.
Last but not least, renowned UAE cartoonist Khalid Bin Hamad told his personal story – he quit his job, moved to Japan to study animation, then turned his passion into a career back home in Qatar. He spoke of the challenges he had to face, coming from a traditional family who wanted him to get a 'real' job, and encouraged the audience to follow their passion and talents, and show people what they are capable of doing. As a result, he presented his beautiful sci-fi graphic novel "Nasser's Secrets", about the disappearance of three teenagers and how they came back after three days, 15 years older. Khalid said he wanted his characters to be Arabs wearing traditional kandura: "I am tired of our own TV shows always portraying very sad dramas, and I am equally tired of Hollywood's negative stereotypes about our culture. I wanted to make our people the heroes of this incredible sci-fi adventure, inspired by Japanese anime".
At the very end, Nabil asked his guests what kids need to take into consideration while watching an anime. And they all agreed: compelling stories, great artwork, but most of all, the ability to move and touch the audience.
Continue to Day 2 Highlights: Ajyal'13 – Part 2.