The White Snake Enchantress (Hakuja den)
Mohaq - ages 8+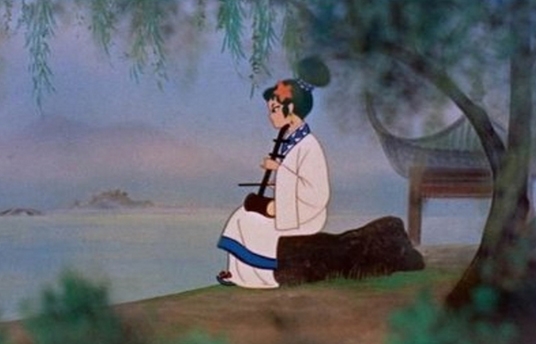 Synopsis
Special Screening - Focus on Anime

Produced by Toei Studios in 1958, 'The White Snake Enchantress' represents a milestone in the history of Japanese animation. Not only is it Japan's first feature-length anime film in colour, but also a singular example of the cross-pollination of Eastern and Western animation.

The story is based on the Chinese folktale 'The Legend of the White Snake', in which young Hsu Hsien owns a pet snake, but is forced to give it up. However, the snake is actually a spirit and one day, during a violent storm, it magically transforms into Pai Niang, a beautiful and mysterious girl. When he grows up, Hsu Hsien falls in love with Pai Niang, but Hokai, a monk who is determined to fight supernatural beings, has Hsu Hsien sent into exile. With the help of a kind fish spirit, two pandas and a gang of animal bandits, the star-crossed lovers risk their lives to prove that true love can overcome any adversity.

Epic in scope, this superbly drawn anime displays incredible visual effects (the supernatural sequences verge on the psychedelic), a wide range of stunning locations (including scenes set under the sea and in outer space), and reveals the surprising influence of Disney animation in its use of musical numbers and animal sidekicks to provide playful scenes of comic relief. A real discovery for any anime lover.

Presented with the support of the Japan Foundation.

About the Directors
Co-director of 'The White Snake Enchantress' (1958), Kazuhiro Okabecreated the TV series 'Mysterious Thief Pride' in 1965, which was broadcast by Fuji Television. In each episode a detective tries to hunt down and capture a notorious and narcissistic thief. The series was aired daily, Monday to Friday, in 8 minutes segments to complete a single story by the end of the week.
Along with Kenzô Masaoka and Sanae Yamamoto, Taiji Yabushita was a pioneer of Japanese animation. In 1949, he co-directed his most famous short film, 'The Animals Play Baseball'. When his company was absorbed by Toei, he was appointed director of the company's first full-length colour film, The White Snake Enchantress' (1958). From then on, he directed or co-directed a further eight full-length films for the company. In 1968, he shot his final short, 'A Million Years in life of Men', before leaving Toei. He is also the author of two documentary films about the history of Japanese animation.
Credits
Director

Kazuhiko Okabe, Taiji Yabushita

Screenwriter

Taiji Yabushita

Producer

Hiroshi Okawa

Editor

Shintaro Miyamoto

Music

Chuji Kinoshita

Sales Company

Toei Company

Production Company

Toei Company

Cast

Hisaya Morishige, Mariko Miyagi