Zyara
Fall Grants 2018
Current project status: PRODUCTION
Synopsis
'Zyara' presents an innovative and deeply personal approach to storytelling. It offers an insight into the testimonies of individuals who have experienced and overcome a wide range of social challenges. The programme has a unique role to play in promoting social cohesion, underlining the qualities which people have in common, rather than those which set them apart. The aim of this documentary series is to promote oneness, tolerance and acceptance by visiting people, meeting them in their personal environment, talking to them heart to heart, listening to their most cherished stories, the memories that marked them the most, feeling their deepest emotions, sharing their dreams and their vision of life. Although each one of us is different, although each one is unique, our stories, feelings and emotions are similar, and they make us one in the end.
Credits
Director

Muriel Aboulrouss

Screenwriter

Denise Jabbour, Muriel Aboulrouss

Producer

Denise Jabbour
About the Director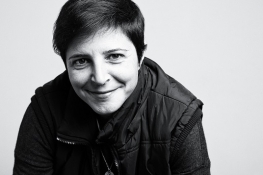 Muriel Aboulrouss, an award-winning cinematographer from Beirut Lebanon, is the first woman to work as a cinematographer in the Arab World. Her numerous cinematography credits include the award-winning documentaries 'The Oil Spill', 'Lesson in History', 'Marcedes' and 'Ya Omri' all by Hady Zaccak. She won the Best Cinematography award at the Arab Screen International Awards for 'The Shower', a short film by Michel Kamoun, with whom she also shot his first feature film 'Falafel' (Best Film at Namur film festival 2006). She shot another Lebanese feature film 'Stray Bullet'. Recently she has contributed to the biographical documentary of Mahmoud Kaabour featuring his grandmother 'Teta Alf Marra'. 'Stray Bullet' won Best Cinematography at Namur Film Festival and Best Arab Film at Dubai film festival (2010) while 'Teta Alf Marra' snatched the audience award for best documentary at Doha Tribeca Film Festival, Docs Box Damascus festival (2010-2011) and in London international film festival. Muriel is also the cinematographer for 'Shankaboot', the first Arab web series produced by the BBC trust fund and Batouta films, 'Shankaboot' won Reflet d'Or for best web series fiction at Geneva film festival in 2010 and again won the digital Emmy award in 2011.
Production Company Profile
Home of cine-Jam is a humanitarian arts association that aims to produce stories of resilience and positivity, and strives to always portray authentic emotions with the purpose of helping others heal and develop empathy toward others. Home of Cine-Jam's goal is to help our society through educational, emotional and social films. They host filmmaking workshops to support filmmakers in their search for their stories, to help and support them in being the authentic artists they can be. Home of Cine-Jam is a home for all those who have the courage to inspire and the will to help others benefit from their own experiences. In a world divided by race, hatred, religion and so forth, they endeavour to shape public opinion in the world, by highlighting the challenges faced by marginalised or vulnerable groups and presenting positive solutions.
Contacts
Main Contact

Denise Jabbour

Company:

Home Of Ciné Jam

Phone:

70197856

Email:

denisejabbour@gmail.com