Zanka Contact
Fall Grants 2016 - Production Stage
Current project status: PRE-PRODUCTION
Synopsis
Casablanca. Larsen, a self-destructive has-been rocker, meets Rajae, a singer with a golden voice and a bad temper. They're both running away: he from the heroin monkey on his back, she from life on the streets. Through their common passion for music, they fall madly in love. Rajae confides in Larsen, and he writes a rock anthem that tells her party-girl life better than she ever could. Their adventure rumbles and tumbles in this little-known, underground and dangerous Morocco, filled with music-buff pimps, torturer cops and pit-bull-raising ladies of the night. When Rajae breaks free by fighting back against her most cruel and powerful client, the lovers flee south, towards redemption. But they are being followed and their freedom spree might end in a bloody mess… Can their romance survive it?
Credits
Director

Ismaël El Iraki

Screenwriter

Ismaël El Iraki

Producer

Saïd Hamich
About the Director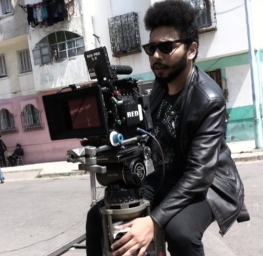 Ismaël El Iraki was born in Morocco in 1983 and emigrated to France in 2001. After studying Philosophy and Cinema at the Sorbonne, he joined the Directing Department of La Fémis in 2004. All of his short films concern Morocco and are linked to the Nayda artistic movement in Casablanca. El Iraki's two latest shorts were both noted successes: 'Carcasse' (2007) won the Short Film Corner Prize at the Festival de Cannes, and 'H'rash' (2009) won a Special Mention at the Clermont-Ferrand International Short Film Festival. Today, El Iraki is developing two feature-length films, including 'Zanka Contact'.
Production Company Profile
Barney Production is an independent company created in 2010 by Saïd Hamich Benlarbi, a former student of the production department of La Fémis (Paris) and winner of the Film Producer prize from the Lagardère Foundation in 2012.
Contacts