When Two Worlds Collide
Fall Grant 2015 - Post-Production Stage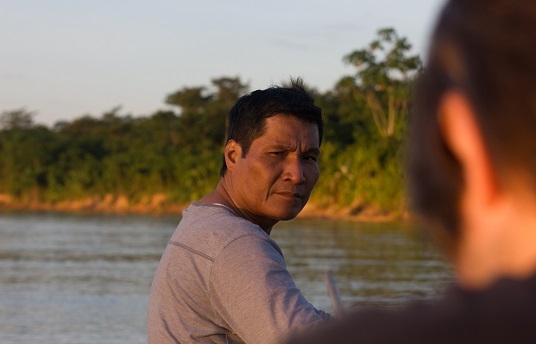 Synopsis
'When Two Worlds Collide' traces the epic journey of Alberto Pizango, an indigenous leader facing lifetime imprisonment for protecting the Peruvian Amazon. When he fights new legislation that has opened up his rainforest home to destruction, Pizango's supporters trigger the largest indigenous protests in Peruvian history. Tragically, this ends in the deaths of both natives and police officers. Pizango was held responsible for the deaths despite the fact that he was in no way involved, and forced into exile. He finally returns to fight for his people and their way of life. The film trails the guilty parties on both sides of the battle as despotic decisions by government, political power plays and the tragedy of destroyed families tell a tale of paradise in peril. Ultimately, the audience is left to grapple with the facts and judge the truth for themselves.
Credits
Director

Heidi Brandenburg, Mathew Orzel

Screenwriter

Heidi Brandenburg, Mathew Orzel, Carla Gutierrez, Taira Akbar

Producer

Taira Akbar

Production Company

Yachaywasi Films

Production Company

Yachaywasi Films
About the Director
Heidi Brandenburg is a passionate observer of human nature and our environment. She co-founded Yachaywasi Films to explore social and environmental issues and challenge audiences to rethink preconceptions. Her first feature-length film, 'When Two Worlds Collide', expands on the signature character-driven style she developed in 'Don Silva' and 'Sonnemann' (both 2006). Brandenburg graduated with honours from the University of Wales. Born in Paraguay and raised in Peru and Germany, she now lives in Washington, DC.
Mathew Orzel is a documentary director and visual artist whose work focuses on the complexities of human relationships. He worked as a sound designer, editor and director in short filmmaking before co-founding Yachaywasi Films with the goal of representing social-justice and environmental issues. Orzel graduated with honours in with a degree in Visual Communication from the University of Wales. 'When Two Worlds Collide' is his first feature-length documentary.
Awards and Festival History

Festivals


Ambulante Documentary Film Festival 2016
AFI Film Festival 2016, SilverDocs
Film Forum 2016
Montclair Film Festival 2016, New Jersey Film Competitions
Nashville Film Festival 2016
Riverrun International Film Festival 2016
Sheffield Doc Festival 2016

Awards


Special Jury Award - Best Debut Feature, Sundance Film Festival 2016 (WP)
Grand Jury Prize - Best International Documentary, Documenta Madrid 2016
Golden Goblet for Best Documentary, Shanghai International Film Festival 2016
Best International Document
Contacts
Main Contact

Mathew Orzel

Company:

Yachaywasi Films

Phone:

+51992990299

Email:

yachaywasifilms@ymail.com