What Brings You Here?
Spring Grants 2022 - Development Stage
Synopsis
Rashid finds himself lost in the desert among the dunes, where he finds a strange object buried in the sand. Rashid follows the object and grabs it, discovering that it is a teddy bear, saying to him, "What do you have here?" when he presses it. A phone call wakes up Rashid from his strange dream. A robocall informs him of receiving an unknown violation. Rashid's surreal bureaucratic journey begins in a building. As every floor he ascends by elevator, the obstacles he faces get weirder. He encounters a cold and indifferent receptionist, a blunt and rude employee and finally, their manager Bu Ahmad. Rashid hopes that Bu Ahmed will help his case because of his friendly demeanour, unlike the rest of the employees in the building. But Rashid realizes that Bu Ahmed is a forgetful and talkative person. After a long struggle with locating Rashid's name in the register, Bu Ahmad reveals that it is impossible to know the violation's cause. He suggests to Rashid that he meet with the senior bureaucrat, Ted, on the 13th floor. Rashid discovers that Senior Manager Ted is the same teddy bear he found in his dream.
Credits
Director

Abdulla Alemadi

Screenwriter

Abdulla Alemadi

Producer

Abdulla Alemadi
About the Director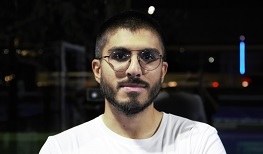 Abdulla Alemadi is a self-taught artist and a photographer. His work is influenced by world literature, mythologies from different cultures and the surrealist movement. Alemadi is interested in telling stories that blend his inspirations with the local Qatari culture and experience.
Contacts