Weldi
Spring Grants 2017 - Production Stage
Current project status: COMPLETED
Synopsis
Riadh is about to retire from his work as a forklift operator at the port of Tunis. The life he shares with his wife Nazli revolves around their only son Sami, who is preparing for his high school exams. The boy's repeated migraine attacks are a cause of much worry to his parents. But when he finally seems to be getting better, Sami suddenly disappears…
Credits
Director

Mohamed Ben Attia

Screenwriter

Mohamed Ben Attia

Producer

Dora Bouchoucha, Jean-Pierre Dardenne, Luc Dardenne, Nadim Cheikhrouha
About the Director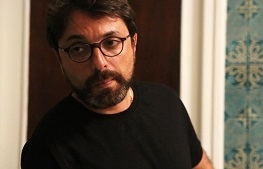 Mohamed Ben Attia was born in Tunis in 1976. He studied Audiovisual Communication at the University of Valenciennes in France after graduating from the Institut de Hautes Études Commerciales (IHEC) in Tunis in 1998. He has directed five short films. 'Hedi', his feature-film debut, had its world premiere at the 2016 Berlin International Film Festival, where it won the Best First Film Award and the Silver Bear for Best Actor. The film has been released in more than 20 countries, has taken part in numerous festivals around the world, and has won many awards.
Production Company Profile
Nomadis Images is a Tunisian audiovisual production company. Its main activities include producing short and feature-length fiction films, documentaries and commercials, and providing services and training to filmmakers. The company's filmography includes Sami Tlili's 'Cursed Be the Phosphate' (2012); Hinde Boujemaa's 'It Was Better Tomorrow' (2012); Raja Amari's 'Buried Secrets' (2009), 'Satin Rouge' (2002) and 'Foreign Body' (2016); and Mohamed Ben Attia's 'Hedi' (2016).
Awards and Festival History

Festivals


Cannes - Director's Forthnight 2018
Contacts
Main Contact

Lina Chaabane

Company:

Nomadis Images

Phone:

+216 7174 9080

Email:

nomadis.images@gmail.com