Walou
Fall Grant 2011 - Development Stage
Current project status: POST-PRODUCTION
Synopsis
I hate the bled! When I was young, every summer, going to Algeria, I couldn't do anything without my older brothers. They were treated like kings, while I was the 'under woman'. My aunt once told me, 'You like freedom too much'. What could that have meant? Algerians aren't free? My aunt isn't free? Guys leaning up against a wall, no job, nothing to do all day: I hated going to the bled because I hated their lives. In Algeria, people live on hope and regrets. What can the future be, stuck between nothing to expect and nothing to live for?
Credits
Director

Hassiba Belhadj

Screenwriter

Hassiba Belhadj

Producer

Olivier Daunizeau
About the Director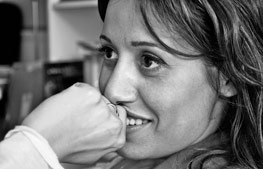 Hassiba Belhadj is a French-Algerian director of documentary films and a production manager with Zadig Productions in Paris. She graduated from the prestigious European Institute of Cinema and Audiovisual in France, and has worked for many years as a production manager and assistant director with well-known directors including Tanaz Eshagian, Nino Kirtadzé, Alain Bergala and William Karel.
Production Company Profile
La Facture is a French documentary production company that develops projects by young authors alongside working with experienced directors. Olivier Daunizeau is the executive producer of a dozen documentaries, including Gianfranco Rosi's 'El Sicario – Room 164' (2010), produced by Les Films d'Ici, which won the FIPRESCI Award at the Venice Film Festival and the Best Documentary Feature Award at Doclisboa. He has also taught documentary production at the Sorbonne. La Facture develops film projects that are committed to the contemporary world and offer a strong cinematic form.
Contacts