Under The Fig Trees
Spring Grants 2021 - Post-Production Stage
Synopsis
In Northern Tunisia, the Kasra region is known for its beautifully arcadian fig plantations. There we join a group of girls as they pick fruit during their summer break from school. Taking place over the course of a day, 'Under the Fig Trees' presents an intergenerational dialogue between these teens and the older folk on the farm as they work the summer harvest, catch feelings, attempt to understand each other, and navigate the complicated terrain of building deeper ties. An absorbing and radiant coming-of-age drama, the film offers an engaging slice of sisterhood, rural life and broader Tunisian society.
Skillfully directed and replete with authentic performances by the largely greenhorn cast, we witness the group's flirtations, dramas and budding love lives unfold in the Tunisian sun. The film's deftly crafted intimate shots come from the director Erige Sehiri's experience as a documentary filmmaker with her critically acclaimed Railway Men' (2018). As sweet as the figs themselves, these intimate interactions reveal each protagonist's differing characters and their opinions on life, love and marriage. Tunisia's official submission in the 2023 Oscars for Best International Feature Film, the film is an elegant and immersive experience that centres on the experiences of young women as they navigate through a world on the fence between tradition and modernity.
Credits
Director

Erige Sehiri

Screenwriter

Erige Sehiri, Ghalya Lacroix, Peggy Hamann

Producer

Erige Sehiri, Palmyre Badinier

Production Company

Henia Production
About the Director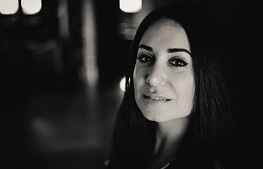 Erige Sehiri is a Tunisian French director and producer. A former journalist, she started her career as a documentary filmmaker. Her breakout feature documentary, 'Railway Men', which presented the daily struggle of railway workers against the failures of the national railways, remained for six weeks in Tunisian theatres. In 2022, she wrote, directed, and produced her first fiction feature, 'Under the Fig Trees', which won several awards at the Venice International Film Festival's Final Cut and joined the selection of the 54th Director's Fortnight at the Cannes Film Festival. It was also selected to be Tunisia's official submission in the 2023 Oscars for Best International Feature Film.
Contacts