Tunis-Djerba
Spring Grants 2021 - Development Stage
Current project status: DEVELOPMENT
Synopsis
Since her father's death, Alyssa (19) has become the caretaker of her depressed mother and little sister. All she wants is to run away from her duties and the misery around her. Her best friend Mehdi (23) is introverted and suffers from vitiligo. Despite his diploma, he is unemployed, which makes him feel guilty towards his family. Both use humour and imagination to escape their harsh life. Mehdi tells and draws surrealist stories, and Alyssa reinvents, whenever she can, her reality. When they find out about a drawing contest held across the country that may turn their lives around, they steal a car and start a crazy road trip. Their friendship is put to the test, and they discover the best and the worst of Tunisia. Their hopes collapse, but they come out changed by their journey. Three months later, Mehdi emigrates illegally as Alyssa couldn't leave her family behind.
Credits
Director

Amel Guellaty

Screenwriter

Amel Guellaty

Producer

Asma Chiboub
About the Director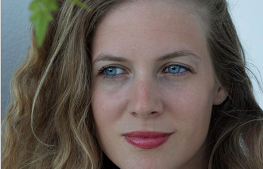 Amel Guellaty is a Tunisian director and photographer. In 2017, she wrote and directed her first short fiction, 'Black Mamba' produced by Atlas Vision. The film was selected in more than 60 international film festivals and won 20 prizes. It was broadcast by Canal+ and Italian RT Channel. Amel has just completed her second short fiction, 'Chitana', and is developing her first feature, 'Tunis-Djerba'. As a photographer, she is published in different magazines such as Elle France and participates in various group exhibitions.
Production Company Profile
Atlas Vision is a Tunisian-based medium-sized production company. It has produced several short films including the award-winning Amine Chiboub's 'Why me?', and Amel Guellaty's 'Black Mamba'. 
Equipped with an editing room, it performs post-production services. The company also produces commercials and TV content and provides line production services. Atlas Vision is currently developing emergent directors' features, like Amel Guellaty's 'Tunis-Djerba' and Firas Khoury's 'Your Father's Friend'.
Contacts