Tshweesh
Fall Grants 2016
Current project status: COMPLETED
Synopsis
Beirut, the day of the World Cup. A woman walks through the relatively quiet streets – people are indoors watching the game, or going about their domestic business. But there seems to be a disruption in the television signal, as isolated moments of mild chaos on the rooftops evidence. Then the still of the hot summer's day is torn apart by an air attack – another interruption to be absorbed, another minor irritation Beirutis refuse to allow to quash their spirits.
Credits
Director

Feyrouz Serhal

Screenwriter

Feyrouz Serhal

Producer

Stefan Gieren, Felipe Lage Coro, Lara Abou Saifan
About the Director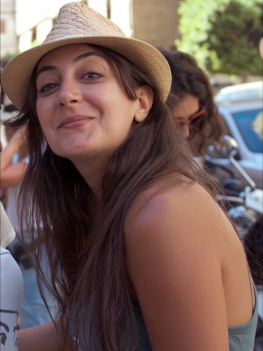 Feyrouz Serhal obtained her Master's degree in Film and Screen Studies from Goldsmiths College University of London, after having worked extensively as director and producer at some of the most prominent Arab television channels in the Middle East. She has also written an d directed several independent short video works. Serhal is now the managing director of Roummana, a newly formed production boutique based in Beirut. She is currently developing 'I Am Here But You Can't See Me', her first feature film as a director.
Production Company Profile
Roummana is a burgeoning production boutique with a revolutionary flair. Its intent is to scout out and provide quality content and production services for filmmakers, independent visual artists, independent musicians and broadcasters in the Middle East. Roummana's mission is to research and acquire progressive ideas from the MENA region and to facilitate their development into various formats for cinema, television and the web. The focus is on making this content viable and accessible to Arab audiences without compromising quality.
Awards and Festival History

Festivals


"Locarno FF 2017, Fuori concorso: Shorts (WP)
Busan IFF 2017, Wide Angle – Short Film Showcase
Torino FF 2017
Dubai IFF 2017, Muhr Shorts"
Contacts