Tramontane
Spring Grant 2013 - Production Stage
Current project status: COMPLETED
Synopsis
Young Rabih is well-liked by family, friends and the community of the Lebanese village he calls home. A blind, extremely talented singer and tablah player, he spends much of his time rehearsing with the musical group he plays in. When the band is invited to perform in Europe, Rabih, excited by the opportunity, heads to the magistrate's office to obtain his passport – only to discover there are certain "irregularities" with his identity card. Denied international travel until he can prove to the authorities who he is, Rabih finds himself opening a closet full of family skeletons.

It is clear that in 'Tramontane', director Vatche Boulghourjian is telling a tale that parallels Lebanon's experience of delving into the turmoil of its recent history. Rabih asks questions about the past that inspire fear, contempt, regret and indignation; the responses he receives, when they are not outright untruths, are laden with feeble attempts to justify unforgotten disgrace. At the same time, the film has a universal ring in its examination of the grief, guilt and shame that are the wages of lies and betrayal.

Boulghourjian is careful to avoid overdramatisation or blame, maintaining instead the balanced understanding that arises from watching characters as their eyes and faces register the flicker of culpability – an approach that, appropriately, inspires conciliation rather than animosity, and champions the freedom of truth over the prison of deceit.
Credits
Director

Vatche Boulghourjian

Screenwriter

Vatche Boulghourjian

Producer

Caroline Oliveira, Georges Schoucair
About the Director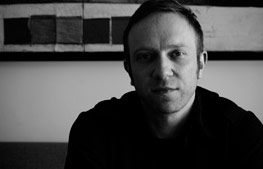 Vatche Boulghourjian is from Lebanon and holds an MFA in film from New York University. Before attending NYU, Boulghourjian worked throughout the Middle East on documentaries for television networks while also making his independent shorts, experimental films, and documentaries. 'Fifth Column', his thesis film, received a production grant from the Hollywood Foreign Press Association and in 2010 had its premiere at the Festival de Cannes as part of the Cinéfondation programme, where it won third prize. Boulghourjian is currently developing his first feature, 'Tramontane', which was selected by the Venice Biennale to take part in the inaugural edition of the Biennale College – Cinema.
Production Company Profile
Abbout Productions produces feature films and documentaries with a distinctly Arab voice, expressing the identity of the region. Since 1998, the company has managed to bring together an important network of Arab and Lebanese artists, and produced award-winning films such as Joana Hadjithomas and Khalil Joreige's 'A Perfect Day' (2005), 'I Want to See' (2008), 'The Lebanese Rocket Society' (2012) and 'Memory Box' (2020); Ghassan Salhab's 'The Last Man' (2006) and 'The Valley' (2014); Georges Hashem's 'Stray Bullet' (2010); Mohamad Malas's 'Ladder to Damascus' (2013); Vatche Boulghourjian's 'Tramontane' (2016); Rana Eid's 'Panoptic' (2017); Mohamed Siam's 'Amal' (2017); Oualid Mouannes' '1982' (2019), Ahmad Ghossein's 'All This Victory' (2019). The company's main objective remains to help structure Lebanese and Arab cinema craft into a solid industry.
Rebus Film Production champions films that communicate complex political and social subject matter, reflect bold authorial craftsmanship, and possess an empathy that can transcend borders and languages. We see films as a combination of images, sounds, and texts that together convey greater meaning and derive the name Rebus from this conviction. Established in 2001 in Beirut, Rebus has produced documentaries and video content for televison networks; documentaries by independent filmmakers with projects in the Middle East; and independent works by Vatche Boulghourjian, including the critically acclaimed, award-winning experimental documentary 'Noble Sacrifice' (2002). Currently, Rebus focuses on producing feature-length films in Lebanon and beyond, and has several projects in development including 'Tramontane'.
Awards and Festival History

Festivals


Cannes Film Festival 2016, Critics' Week (WP)
FilmFest Munchen 2016, International Independents Competition
BFI London Film Festival 2016
Karlovy Vary International Film Festival 2016, Another View
Rotterdam International Film Festival 2017, Voices

Awards


Jury Special Mention, Pula Film Festival 2016
Prix Découverte, Namur Film Festival 2016
Best Film, Bratislava Film Festival 2016
Best Actress (Julia Kassar), Dubai International Film Festival 2016
Contacts