To Live To Sing
Spring Grants 2019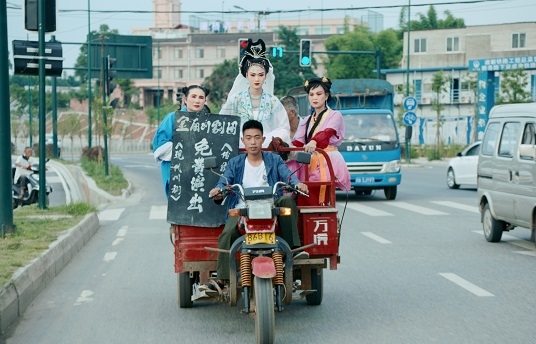 Synopsis
Zhao Li is the manager of a small Sichuan Opera troupe of 11 members living and performing together in a rundown theatre located in the outskirts of Chengdu, China. But when she receives an order of demolition to the troupe theatre, Zhao Li hides the news from everyone else, fearing that this could spell the end of her opera troupe. Secretly, Zhao Li wouldn't mind stopping since troupe life has become difficult over the years. But what else can she do? Besides demolition, she also worries that her 17-year-old niece Dan Dan, the starlet of the troupe, will leave them for a better future in the city. To keep her troupe "family" together, Zhao Li begins to search for a new theatre for the opera troupe to both sing and live in. As she struggles with modern government bureaucracy, her opera world slowly begins to seep into her real world. Just as Zhao Li uses performing opera as a way to escape from the troubles of her real life, soon characters from opera begin to show up in that real life…
Credits
Director

Johnny Ma

Screenwriter

Johnny Ma

Producer

Jing Wang

Production Company

Image X Productions
About the Director
Born as Ma Nan in Shanghai, China, Johnny first immigrated to Toronto at the age of ten. He graduated from Columbia University and was a fellow at the Sundance Institute Screenwriting and Directing Lab in 2014. In 2012, Johnny moved back to China to make his thesis film, 'A Grand Canal' (2013), which premiered at the Toronto International Film Festival. 'Old Stone' (2016), Johnny's directorial debut world premiered at the Berlinale. It was awarded the Best Canadian First Feature Award at Toronto International Film Festival and Best First Feature at Canadian Screen Awards.
Awards and Festival History

Festivals


"Directors' Fortnight, Festival de Cannes 2019 (WP)
BFI London 2019
Chicago IFF 2019"

Awards


"Best Film and Best Actress awards, Shanghai FF 2019
Special Mention Prize, Guanajuato FF 2019"
Contacts