They
Fall Grant 2014 - Production Stage
Synopsis
Fourteen-year-old J goes by the pronoun 'They" and lives with their parents in the suburbs of Chicago. J is exploring their gender identity while taking hormone blockers to postpone puberty. After two years of medication and therapy, J has to make a decision whether or not to transition. Over this crucial weekend while their parents are away, J's sister Lauren and her maybe/maybe-not Iranian partner Araz arrive to take care of J. During this time together, J, Lauren and Araz form an intimate family unit. Each character is in a state of suspension, of being in-between, of not belonging. J voices what all three feel: a reluctance to change, a desire to remain in childhood where innocence is still possible even as it recedes into the distance.
Credits
Director

Anahita Ghazvinizadeh

Screenwriter

Anahita Ghazvinizadeh

Producer

Zoe Sua Cho, Simone Ling

Production Company

Mass Ornament Films

Production Company

Mass Ornament Films
About the Director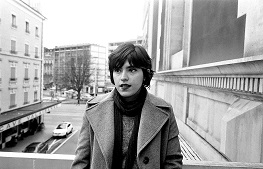 Anahita Ghazvinizadeh received her BFA in Film from the Tehran University of Art and her MFA in Studio Arts from the School of the Art Institute of Chicago. Among other awards, she has won the Cinéfondation First Prize at the Festival de Cannes and the Silver Hugo from the Chicago International Film Festival. She was selected as one of the 25 New Faces of Independent Filmmaking by 'Filmmaker' magazine in 2013. She was a writing fellow at the Sundance Screenwriters' Lab in 2013, and is also the co-writer of the acclaimed feature film 'Mourning' (2011). In 2016, she made the short film 'What Remains' as part of a collective international project called Break the Silence, which aims to increase public knowledge and engagement against the abuse and exploitation of children. Currently, Ghazvinizadeh is working on her first feature-length film, 'They'. As part of her Cinéfondation award, the film is guaranteed to have its premiere at the Festival de Cannes.
Awards and Festival History

Festivals


Cannes Film Festival 2017, Special Screenings (WP)
Busan Int'l Film Festival 2017, A Window on Asian Cinema
Deauville Film Festival 2017
Contacts