Their Algeria
Fall Grants 2019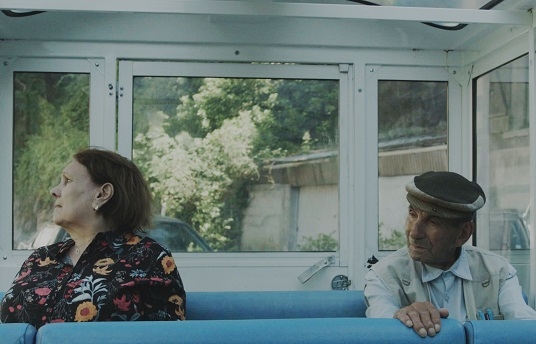 Synopsis
After 62 years of living together, Aïcha and Mabrouk, my grandparents, are separating. They now live in two separate buildings, facing each other. I didn't understand their separation. No one explained it to me. I don't know their story. No one told it to me. Their silence troubled me. Aïcha and Mabrouk got married in 1952, in the village of Laouamer in Algeria, without knowing each other. Two years later, they settled in Thiers, a medieval French town where they have been living for over 60 years. Mabrouk worked his entire life as a polisher in a knife-making factory. Aïcha followed a husband she did not know and started a family with him. As I try to understand their separation, it leads me back to Algeria and to the silence that exile has imposed on two generations, my father's and mine. I discover the persistent suffering of their uprooting. An uprooting they can't describe. With them, and with the help of my father Zinedine, I'm off to search for this story of exile, of bonds that are unmade, of suffering and pride—which profoundly affected my grandparents and an entire generation of Algerians who immigrated to France.
Credits
Director

Lina Soualem

Screenwriter

Lina Soualem

Producer

Marie Balducchi

Production Company

AGAT Films / EX NIHILO
About the Director
Lina Soualem is a French-Palestinian-Algerian filmmaker and actress, born and based in Paris. After studying History and Political Science at La Sorbonne University, Lina started working in journalism and as a programmer in film festivals, looking to combine her interests in cinema and the study of contemporary Arab societies. Lina worked as a programmer for the International Human Rights Film Festival in Buenos Aires and the Palest'In & Out Festival in Paris, among others. Lina's debut feature documentary 'Their Algeria' premiered in Visions du Réel International Film Festival 2020. 'Their Algeria' recently received the First Film prize in CINEMED Montpellier International Festival of Mediterranean Film & the El Gouna Star for the Best Arab Documentary in El Gouna Film Festival. Lina acted in three feature films directed by Hafsia Herzi, Hiam Abbass and Rayhana. She is currently developing her second feature documentary 'Bye Bye Tiberias', and works as an author of fiction, documentaries and TV series.
Awards and Festival History

Festivals


"Visions du Reel 2020 (WP – online edition)
Cinemed 2020
El Gouna FF 2020"

Awards

Contacts