The Virgin, the Copts and Me
Fall Grant 2011 - Post-Production Stage
Synopsis
Namir is a French filmmaker of Egyptian origin. One day he watches a videotape of the Virgin Mary's apparition in Egypt with his mother who, like millions of other Copts, sees the Virgin on the screen while he sees nothing. Skeptical about the videotape, Namir travels back to Egypt to make a film about the bizarre occurrence of these apparitions.
Credits
Director

Namir Abdel Messeeh

Screenwriter

Namir Abdel Messeeh, Nathalie Najem, Anne Paschetta

Producer

Namir Abdel Messeeh
About the Director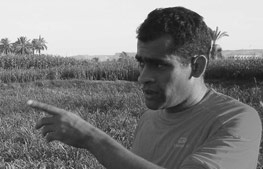 Born in 1974, Namir Abdel Messeeh lived his early childhood in Upper Egypt. He is currently based in France where he obtained a Masters degree in cinema from the University of Paris VII and studied directing at FEMIS. He directed two short fiction films before exploring more personal questions through his short documentary 'You, Waguih' (2005)".
Awards and Festival History

Festivals


Doha Tribeca Film Festival 2011, in Arab Feature Documentary Competition (Qatar)

Awards


Won Best Arab Documentary Feature at Doha Tribeca Film Festival 2011 (Qatar)
Won the 3rd Audience Award in Berlinale Panorama at the Berlin International Film Festival 2012 (Germany)
Won the Silver Tanit for Best Documentary at Carthage Film Festival 20
Contacts