The Valley
Fall Grant 2012 - Production Stage
Current project status: COMPLETED
Synopsis
Following a car accident on a lone mountain road, a middle-aged man loses his memory. Drenched in blood, he continues to walk along the deserted path. Further down the road, he encounters people with engine trouble and helps them get their car running again. They are reluctant to leave him stranded, so they take him home to their large estate in the Bekaa valley, a place where production is not only agricultural, and a place he may never leave again….
Credits
Director

Ghassan Salhab

Screenwriter

Ghassan Salhab

Producer

Georges Schoucair
About the Director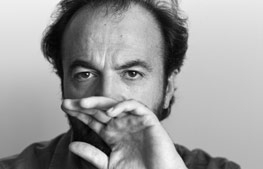 Lebanese filmmaker Ghassan Salhab collaborates on a variety of screenplays and teaches film in Lebanon. He has directed six feature-length films: 'Beyrouth fantôme', 'Terra Incognita',
'The Last Man', '1958', 'The Mountain' and 'The Valley'; and numerous video works, including 'Baalbeck' (co-directed with Akram Zaatari and Mohamad Soueid); 'Nobody's Rose'; 'My Dead Body My Living Body'; 'Lost Narcissus'; '(Posthumous)'; 'Il massacro degli innocenti'; 'Everybody Knows This Is Nowhere'; and 'Son image' In 2016, Salhab was a DAAD guest resident. In 2010, La Rochelle International Film Festival and JCC hels a tribute to his work.
Production Company Profile
Abbout Productions produces feature films and documentaries with a distinctly Arab voice, expressing the identity of the region. Since 1998, the company has managed to bring together an important network of Arab and Lebanese artists, and produced award-winning films such as Joana Hadjithomas and Khalil Joreige's 'A Perfect Day' (2005), 'I Want to See' (2008), and 'The Lebanese Rocket Society' (2012); Ghassan Salhab's 'The Last Man' (2006) and 'The Valley' (2014); Georges Hashem's 'Stray Bullet' (2010); Hany Tamba's 'Melodrama Habibi' (2007); Mohamad Malas's 'Ladder to Damascus' (2013); Vatche Boulghourjian's 'Tramontane' (2016); Rana Eid's 'Panoptic' (2017); Mohamed Siam's 'Amal' (2017); and Badih Massaad and Antoine Waked's 'A Certain Nasser' (2017). Abbout Productions has a strong partnership with MC Distribution, a company dedicated to promoting new films from the Middle East along with direct and priority access to the sole art-house theatre in Lebanon, Metropolis Cinema. The company's main objective remains to help structure Lebanese and Arab cinema craft into a solid industry.
Awards and Festival History

Festivals


Berlin International Film Festival, The Films of the 45th Forum 2015 (Germany)
Toronto International Film Festival 2014, in Contemporary World Cinema Category (Canada)