The Unlucky Hamster
Fall Grants 2019 - Post-Production Stage
Current project status:
Synopsis
Fluffy is a cute little hamster who just can't catch a break! Every day he patiently waits in his cage at the pet store for someone to pick him. Dreaming of a new home, he thinks he has finally been rescued when a mysterious man approaches. But poor Fluffy's dream soon turns into a living nightmare, as his new owner has ulterior motives for the purchase.
Credits
Director

Abdulaziz Khashabi

Screenwriter

Abdulaziz Khashabi

Producer

Abdulla Al Janahi, Fabian Loing
About the Director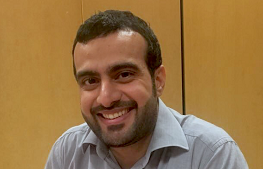 Abdulaziz Mohammed Khashabi is a Qatari engineer and filmmaker. He graduated from the University of Portsmouth in the UK and holds a bachelor's degree in Computer Engineering. He has a passion for animation films, ever since he grew up watching cartoons and Disney classics. He has written numerous scripts, including a feature film, several short films, and a 15-episode traditional Qatari series. He is known for his short film 'The Unlucky Hamster', which won the Made in Qatar Special Jury Award at the Ajyal Film Festival 2019. In addition, he has directed and produced other short animated films such as; 'Hope', which won the best short film award in Ajyal Film Festival 2020, and the upcoming short film 'Revenge Knows Nothing'.
Production Company Profile
GreenTree Production is an animation company based in Doha, Qatar. Founded in 2017 by Abdulaziz Khashabi and Abdulla Al Janahi, GreenTree specializes in creative, magical, and meaningful films, by bringing imagination to life. The company has worked on several projects including a feature film, short films and a traditional Qatari series consisting of 15 episodes.
Lumine Studio

Lumine Studio is an animation production studio based in Jakarta, Indonesia with over a decade of experience leading to an outstanding reputation for quality. Their area of focus revolves around 3D animation across all digital platforms, including digital campaigns, gaming, series and VFX/CGI feature films. Shaped and cored by energetic, fresh and vibrant, creative talents along with industry knowledge continually fuels their commitment to producing content of the highest standard.
Contacts