The Unknown Saint
Fall Grants 2017 - Production Stage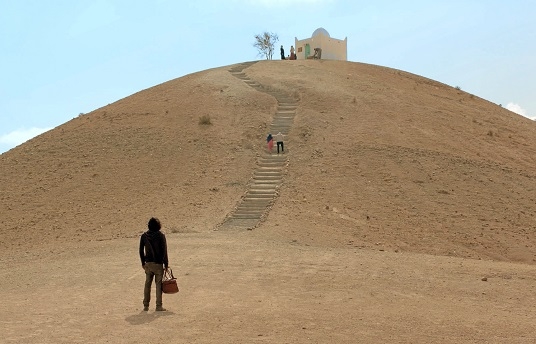 Synopsis
In this brilliantly comedic modern fable, debut feature director Alaa Eddine Aljem takes audiences on a deadpan desert caper with a subtle touch of absurdity. A thief has just stolen a considerably large bag of cash. With the cops hot on his heels, he acts quickly and buries his ill-gotten gains atop of a hill in the desert, fashioning a makeshift grave with rocks to help him identify the location later. Upon being released from prison, he returns to the spot only to discover that the local inhabitants have mistaken his hastily constructed hiding place as a miracle grave for a mysterious, albeit completely fictional saint.

An impressive shrine now covers the thief's loot, and to his infinite surprise, there is even a whole new town that has sprung up nearby to support the legions of pilgrims who travel from far and wide to visit the mausoleum. Along with his dim-witted abettor, the thief settles into the village and begins plotting a way to break into the shrine. But with the loot now hidden in a holy place, retrieving it suddenly becomes much more complicated in this farcical and quirky satire on superstitions.
Credits
Director

Alaa Eddine Aljem

Producer

Francesca Duca
About the Director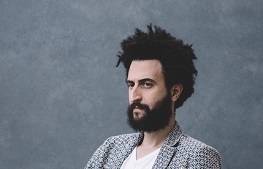 Trained at ESAV Marrakech and INSAS in Brussels, Alaa Eddine Aljem directed several short films, including 'The Desert Fish' (2015), which gained great acclaim on the film festival circuit and took the Critics, Screenwriting and Grand Prize at the Moroccan National Film Festival. 'The Unknown Saint' is Aljem's debut feature. With this project, Aljem participated in the Open Doors Lab at the Locarno Festival, where it won the ICAM award. Aljem also took part in La Fabrique des Cinémas du Monde in Cannes in 2016, and in the Sundance Screenwriters' Lab. In 2016, Alaa was named by Screen International as one of the "Five Arab Stars of Tomorrow".
Awards and Festival History

Festivals


"Semaine de la Critique, Festival de Cannes 2019 (WP)
Karlovy Vary FF 2019
FID Marseille 2019, Opening Film
Sarajevo FF 2019
Busan IFF 2019
BFI London 2019
CINEMED 2019
Cinema Mediterraneen de Bruxelles 2019
Marrakech IFF 2019
IFFR 2020, Bright Future
Am

Awards


Best First Film Award, Tangier FF 2020
Contacts