The Tunnel
Fall Grant 2011 - Production Stage
Synopsis
A couple mourns the tragic loss of a child. Isolated in the harsh conditions of the desert landscape, they try to overcome the pain and come to terms with their grief. A story of two solitary quests for reconciliation and survival.
Credits
Director

Karim Souaki

Screenwriter

Karim Souaki

Producer

Chawki Al Majari, Ala Eddine Slim
About the Director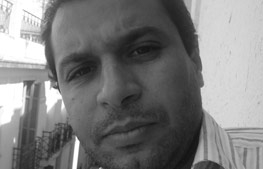 Born in Tunis in 1977, Karim Souaki studied cinema at the École des Arts et du Cinéma and made two short documentaries – 'Qui aime la vie?' (2004); and 'Histoire d'une femme' (2008), which won the Bronze Medal at the Kélibia Festival of Amateur Films – before having his first full-length film, 'Silence', selected for the Journées Cinématographiques de Carthage in 2008.
Awards and Festival History

Festivals


Doha Tribeca Film Festival 2012, in Arab Short Film competition (Qatar)
Contacts
Main Contact

Ala Eddine Slim

Company:

Exit Productions

Phone:

+216 713 48038 / +216 229 05811

Email:

slim.alaeddine@gmail.com

Sales Contact

Chawki Knis

Company:

Exit Productions

Phone:

+216 7134 8038

Email:

contact@exitprod.com