The Translator
Spring Grants 2017 - Production Stage
Synopsis
Having gotten into trouble with the Syrian government, Sami has been living for years as a political refugee in Australia, working as an Arabic–English translator. And although he has adapted well to his new life, he is haunted by feelings of guilt for having abandoned his brother and sister. In 2011, the Syrian revolution starts unexpectedly, and Sami receives a video of his brother being arrested for peacefully demonstrating. The horrifying event brings up painful memories of when their father was similarly arrested by the regime thirty years earlier. Seizing this moment as a way to make up for the past, Sami makes the dangerous journey back to Syria in order to find his brother. Once there, Sami becomes increasingly aware of his responsibility towards his country and family, leading him just like his father and brother did—to risk everything for freedom.
Credits
Director

Rana Kazkaz, Anas Khalaf

Screenwriter

Rana Kazkaz, Magali Negroni

Producer

Anas Khalaf, Nicolas Leprêtre, Raphaël Alexandre

Production Company

Georges Films

Production Company

Georges Films
About the Director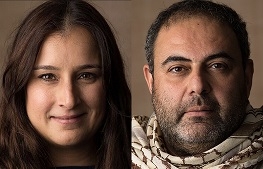 Rana Kazkaz, a Syrian-American, currently lives with her family in Doha, having left Damascus as a result of the ongoing Syrian conflict. Kazkaz holds an MFA in Acting from Carnegie Mellon University/Moscow Art Theatre and attended the Directing Workshop for Women at the American Film Institute. She is the writer and director of four short films including 'Mare Nostrum' (2016). In addition to developing other feature films, Rana is Assistant Professor in Residence at Northwestern University in Qatar where she teaches filmmaking.
Anas Khalaf is a Syrian-French filmmaker who currently lives in Doha, Qatar—having left Damascus with his family in 2012 due to the Syrian conflict. He holds a Bachelor of Arts from the Normandy Business School in France. He and his wife, Rana Kazkaz, co-founded the production company Synéastes Films in 2010. Together they have co-directed four short films, the last of which was the multi-awarded 'Mare Nostrum' in 2017 and one feature film, 'The Translator' (TIFF and Tallinn in 2020). Anas is currently developing two feature films as writer/director, 'The Photographer' and 'Love-45'. Anas also has an acting career, having played in feature films ('Degradé', 'The Translator') as well as in TV Series ('The Bureau', 'Crisis Cell').
Contacts