The Taste of Apples Is Red
Fall Grant 2013 - Development Stage
Synopsis
In the wake of fierce battles of the Syrian Civil War, old Mustafa crosses the border, and returns to his hometown in the occupied Golan Heights. There, he meets his brother Kamel, whom he has not seen in 47 years. Kamel tries to protect his brother, who is aligned with the rebels in Syria, from the villagers who seek to betray him. He embarks on a journey in an attempt to save Mustafa, and finds himself in confrontation with the people around him, and most of all with himself.
Credits
Director

Ehab Tarabieh

Screenwriter

Ehab Tarabieh

Producer

Sol Goodman, Jonathan Doweck

Production Company

Railroad Movies

Production Company

RailRoad Movies
About the Director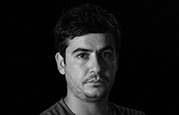 Ehab Tarabieh was born in Majdal Shams, a small village in the occupied Syrian Golan Heights. Growing up under Israeli military occupation, Tarabieh was politically active at very young age. He studied classical violin at the Conservatory for Classical Music in Damascus before relocating to the Czech Republic to study film. After graduating, he made several award-winning short films that documented life under occupation in Palestine. 'The Forgotten', his short narrative film, received a grant from the Doha film Institute and won the Best Short Film Award at the Doha Tribeca Film Festival in 2012. 'Smile, and the World Will Smile Back' (2014), a short documentary, screened in competition at the Berlin International Film Festival, won the Best Short Film Award at the Milano Film Festival, and is the Clermont-Ferrand Short Film nominee for the 2015 European Film Awards.
Contacts
Director

Ehab Tarabieh

Company:

RailRoad Films

Email:

ehabtarabieh@gmail.com