The Present
Spring Grants 2019
Current project status: COMPLETED
Synopsis
Yusef is a family man from the West Bank, battling enormous queues at dawn to get to work every day, exacerbated by severe back pain and surrounded by military checkpoints. On his day off, to celebrate his wedding anniversary with his wife Noor, he takes their daughter Yasmine on a trip to buy a surprise gift. The celebratory plan starts off well, but eventually, Yusef has to grapple between parenting and the humiliating realities of the checkpoints they become entangled with. Along the way, they meet many others enduring similar setbacks and daily indignities. Yusef overcomes the small but brutal realities, withstands the pain in his back and tries to motivate Yasmine to cultivate hope. However, by nightfall, as their patience shatters into fatigue and cold, the gift that was intended as a surprise is under threat of not making it home, and they find themselves in danger. Can Yusef suppress the mortification he endures and the debilitating pain in his back to overcome the limitations forced on them? Will little Yasmine succumb to the trauma of the degradation of her father or will her courage help them triumph in the face of barriers colluding to destroy their day?
Credits
Director

Farah Nabulsi

Screenwriter

Farah Nabulsi, Hind Shoufdani

Producer

Ossama Bawardi
About the Director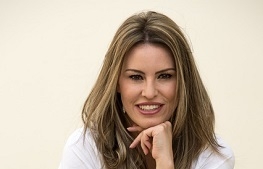 Farah Nabulsi is an Academy Award Nominated and BAFTA Award Winning Palestinian British filmmaker. In 2016, she started working in the film industry as a writer and producer of short fiction films. Her work includes 'Today They Took My Son', endorsed by British Director Ken Loach and screened at the United Nations. 'The Present', her directorial debut, which she also co-wrote, premiered at Clermont-Ferrand International Short Film Festival 2020 and won the coveted Audience Award for Best Film. It went on to win over 30 International Film Festival Jury and Audience Awards, a BAFTA Award and an Oscar Nomination. 'The Present' was licensed internationally, including to Canal+ and Netflix Worldwide.
Production Company Profile
Philistine Films is an independent production company founded in 1997 with offices in both Palestine and Jordan, supporting new voices and offering a platform for the emerging independent Arab film scene. Known for an interest in challenging, thought-provoking and original movies, Philistine Films has established itself at the forefront of independent cinema in the region, producing films for directors like Annemarie Jacir, Ossama Bawardi, Dahna Abourahme, Kamran Rastegar, Rami Yasin, Zain Duraie, Mai Masri and Catherine Rios, with Official Selections of the Cannes, screenings in Venice, Berlin, Toronto and Tribeca, a finalist for an Academy Award and more than 300 other festivals and numerous awards. With the conviction that in order to build a truly independent cinema, a self-sufficient industry should exist with professional crew and genuinely independent voices, Philistine organises screenwriting and directing workshops and technical crew training. The company also hosted director Ken Loach for his historic first visit to Ramallah in 2011, organised several screenings, most significantly the Dreams of a Nation travelling film festival and database.
Awards and Festival History

Festivals


"Shortshorts FF & Asia 2020
"

Awards


"Int'l Audience Prize, Clermont-Ferrrand IFF 2020
Best Live Action Short Award, Cleveland IFF 2020
Audience Award for Best Short Narrative, Brooklyn FF 2020
Special Jury Award Bridging the Borders and Audience Pick, Palm Springs Int'l Short FF 2020
Audien
Contacts