The People
Fall Grants 2019 - Production Stage
Synopsis
Mahfod Lakroune, Ahcen Djouzi and Amir Bensaid from the former troupe "Action Culturelle des Travailleurs" directed by Kateb Yacine, still live in Sidi Bel Abbes in western Algeria. They share their theatrical experience with amateur comedians for the needs of this film. From Sidi Bel Abbes to Guelma and to Rabat, the film director accompanies Mahfod as he looks for the other former members. These interviews are an integral part of the drama workshops in Bejaia. The young comedians are updating the play 'Mohamed prends ta valise' after this enriching exchange around an essential question—what is emigration today? It is still a topical issue since we are witnessing an important wave of migration. The documentary shows the playwright's atypical destiny while remaining rooted in the present with this portrait of Algerian youth and their questionings that mirror those of Kateb Yacine. Our starting point is the present of the action (what is happening in the discussions around the text, around the playwright's ideas, his life, the debates that are raised) to tell the life of Kateb Yacine. The concepts and ideas raised in the workshops will enable us little by little to draw the portrait of the playwright as echoing the past, a portrait that will compose like a puzzle. The way the past and the present are intertwined and how they feed on each other will make the narratives of each part unroll. The two axes are ultimately linked by the play 'Mohamed prends ta valise' and by the participation of the original comedians in the current staging.
Credits
Director

Rahma Benhamou El Madani

Screenwriter

Rahma Benhamou El Madani

Producer

Amina Haddad
About the Director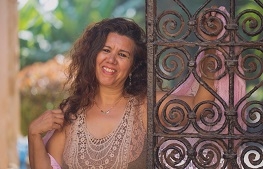 Rahma Benhamou El Madani was born in Algeria to a Moroccan family and grew up in France. She is a graduate of linguistics, literature and cinema. Returning to her homeland, she created the documentary 'This is my Home', which was released in 2003. In 2012, she completed 'Tagnawittude', a musical documentary. Her fiction film 'Meilicheng' tells the tale of emigration and exile. In 2016, her first book 'Alone, Inked in the Ground' was adapted into a short film. Her latest work, 'United Towards Kateb', is a documentary that follows the troupe of A.C.T led by Kateb Yacine, and she is currently working on a documentary titled 'Oranie'.
Contacts