The Pact of Aleppo
Spring Grants 2020
Synopsis
Set in Aleppo from the first demonstrations in 2011 up to the evacuation of the city in 2016, 'Our Choices' follows the destiny of the revolution through the eyes of Salah Al Ashkar—the witness and protagonist of an impossible revolution, of a utopia that collided with the wall of reality.
Credits
Director

Karim Serjieh

Screenwriter

Karim Serjieh

Producer

Etienne de Ricaud, Karim Serjieh

Production Company

Caractères Productions
About the Director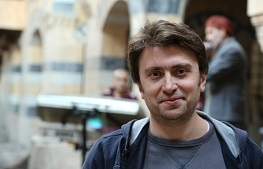 Born in 1988 in Aleppo, Karim Serjeh lives today in Paris. He filmed the uprising of Aleppo from 2011 until his evacuation in December 2016. During the war in 2012, he co-founded the Aleppo Media Center and later worked as a cameraman, field producer and independent photographer for several international TV channels and news agencies. In 2012 as well, he set up "Rouh" ("The Soul"), a structure through which he produced or directed short documentary and fiction films. Since 2017 he's been working on 'Our Choices', with images that he has filmed and kept only for this film.
Contacts