The Night and the Kid
Fall Grant 2012 - Production Stage
Synopsis
The dim light of night covers a stony desert in Algeria. By the light of the moon, Faouzi, IIyes and Idriss are walking; we have no idea if they are running away or looking for something. They arrive at 'the white', an abandoned farm in the middle of the steppe. Slowly, another face appears in their dream. It is the face of otherness, the face of one who is absent: their distant ancestor, Madalena Aoles, a Spanish woman kidnapped by the soldiers of Emir Abd-el-Kader.
Credits
Director

David Yon

Screenwriter

David Yon

Producer

Karim Aitouna, Thomas Micoulet
About the Director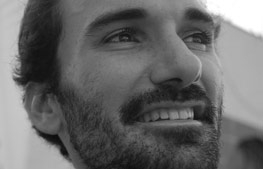 David Yon was born in 1979 in Provins, France, and obtained a Masters degree in documentary filmmaking from Lussas in 2005. Since then, he has divided his time between research into image and sound, and working in a library, where he conducts workshops and programs films. In 2007, he achieved his ambition of creating a magazine about cinema that combines a book, a DVD and a website: 'Dérives' (www.derives.tv). In 2009, he completed his first film, 'The Birds of Arabia', which was selected for a number of festivals.
Awards and Festival History

Festivals


World Premiere Screening at the 65th Berlin International Film Festival (Germany)
65th Berlin International Film Festival 2015, in The Films of the 45th Forum (Germany)
27th edition of the States General of the Documentary Film 2015 (France)
The 2nd In

Awards


Won the Special Jury Award at Fronteira International Film Festival 2015 (Brazil)
Contacts