The Nablus Runner
Spring Grants 2020 - Development Stage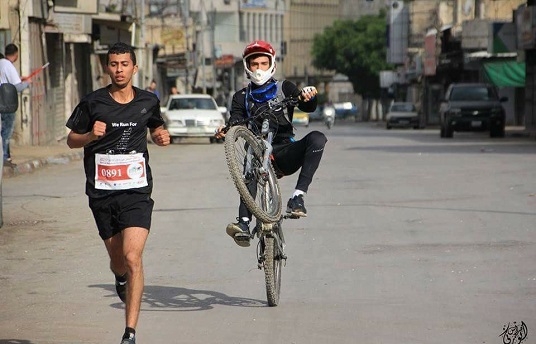 Synopsis
Deya is a young Palestinian man passionate about marathon running. His obsession takes him through occupied territory, running long miles along imposed roads, with or against the wind. But in his territory, it is impossible to find the 26 regulatory miles with no obstacles. So Deya is often forced to run in circles. There is an extraordinary story behind his tenacity to run the marathon— one of a young man who is confined to his small territory, running through the town and its outskirts which have become his racetrack. A marathon in truncated loops, due to a lack of space. Despite imposed restrictions on movement, every day he runs on the streets of Nablus and Nur Shams, the refugee camp where he lives. He strives to reach his ultimate goal—to run a famous international marathon and achieve his dream of one day representing his country Palestine at the Olympic Games.
Credits
Director

Haïcha Ladrouz

Screenwriter

Haïcha Ladrouz

Producer

Palmyre A. Badinier, Ossama Bawardi

Production Company

Philistine Films
About the Director
After finishing her cinema studies, Haïcha Ladrouz began working for French TV channels ARTE and Canal+, reporting in conflict zones such as Algeria, Palestine, Syria and Yugoslavia. She made her first documentary 'Des Pas Sans Elle' in 2000, before entering The Documentary School of Lussas. After making several short fictions and video clips, she entered the Femis cinema school in 2004. In 2009 and 2012, she returned to the West Bank to make the feature-length documentary 'Hope in the Bottle', which received several international awards. A feature film, 'The Soul Fruits' followed. In 2019, she graduated with a screenwriting master's degree with honours. Haïcha is currently working on a new documentary project for the cinema: the story of a Palestinian marathon runner. She divides her time between fiction writing and documentaries.
Contacts