The Man Who Stole Banksy
Fall Grants 2017 - Post-Production Stage
Current project status: COMPLETED
Synopsis
In 2007, Banksy went to Palestine to paint on walls. Someone takes offence at a piece depicting an Israeli soldier checking a donkey's ID. A local taxi driver decides to cut it off and sell it back to the West. This is the story of the Palestinian perspective and reaction to street art through the work of its most celebrated hero. The story of an illegal black market of art stolen from streets around the world, cultures clashing in the face of an unsustainable political situation and finally of the changing perception of street art. It is not one story, but many. Like Banksy's art would be meaningless without its context, so the absence of it would be meaningless without an understanding of the elements that brought his artwork from Bethlehem to a Western auction house, along with the wall it was painted on.
Credits
Director

Marco Proserpio

Screenwriter

Marco Proserpio, Filippo Perfido, Christian Omodeo

Producer

Marco Proserpio, Filippo Perfido
About the Director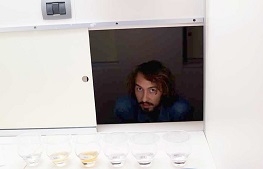 Italian director and screenwriter Marco Proserpio has been involved in film, television and advertising since the age of 20, when he started working at MTV Italia. Soon after leaving MTV he started directing short films and commercials for television. His corporate clients include Pirelli, Campari, Jeep, Diesel, and Sony. In November 2016, Proserpio directed the film 'The Story Of Our Guardians' produced by Balich Worldwide Shows for the 45th UAE National Day. His most recent projects include the short films 'Toys' and 'Golden Age' and the upcoming feature documentary 'The Man Who Stole Banksy'.
Production Company Profile
Hiding behind the cult of the multiple-use name 'Sterven Jønger', Sterven Pictures is an independent production company based in Milan, Italy, founded in 2010 and operated ever since by filmmakers Marco Proserpio and Jacopo Farina. Sterven Pictures specializes in the research and production of a broad range of original content. Clients include Adidas, Autogrill, Fondazione Prada, Jeep, Missoni, Moleskine, Montreux Jazz Festival, Pirelli, Sony, Universal Music Group, Vice, YOOX, Wired and many more. In 2017, during the production of the feature 'The Man Who Stole Banksy', Marco Proserpio decided to split the company and simply use his own name and focus on documentaries and features, leaving former partner Jacopo Farina to use the name 'Sterven Jønger' to work mainly on advertising and music videos.
Contacts
Main Contact

Marco Proserpio

Company:

Sterven Pictures

Phone:

+39 3404 1055 43

Email:

stervenpictures@gmail.com