The Last Land
Spring Grant 2014 - Production Stage
Synopsis
Evangelina and Amancio, an elderly couple, live out their lives on an isolated hill. Evangelina has been ailing for a very long time. On this particular night, Amancio quietly accompanies her, with words and with whispers – with silence – through the dark hours until the break of day; the moment of her death. Now utterly alone, Amancio takes charge of the various tasks required for her burial. His actions are gradually infused with the power of ritual, as he comes to embrace solitude and loss.
Credits
Director

Pablo Lamar

Screenwriter

Pablo Lamar

Producer

Ilse Hughan, Wiebke Toppel

Production Company

Sapukai Cine, Fortuna Films, Cinestacion Producciones

Production Company

Sapukai Cine
About the Director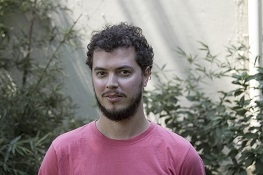 Pablo Lamar was born in Asunción, Paraguay, in 1984. He studied film at the Universidad del Cine of Buenos Aires (FUC). He has written and directed two short films, 'I Hear Your Scream' (2008) and 'Night Inside' (2009), both of which premiered at the Cannes Critics Week.
Awards and Festival History

Festivals


International Film Festival Rotterdam 2016, Bright Future (WP)
Torino Film Festival 2016
Contacts