The Great Family
Fall Grant 2015 - Development Stage
Current project status: DEVELOPMENT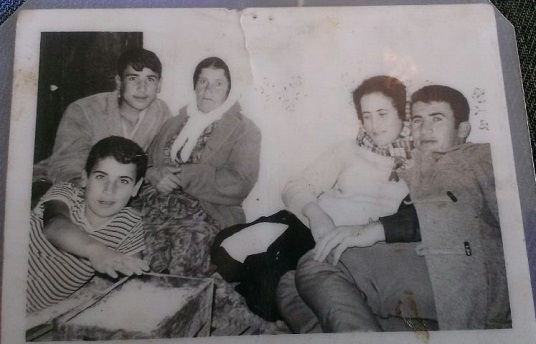 Synopsis
'The Great Family' follows the story of Marlene, a 43-year-old woman who was adopted from Lebanon by a French family in 1976 when she was four years old. As she investigates the traces of her identity, she discovers she is from the Tal Al Zaatar Palestinian refugee camp, which fell during the Lebanese Civil War. The camp is only kept alive through the testimonies of its survivors, who are scattered in Lebanon, Jordan, Germany, Norway and Sweden, and, even 40 years later, are unable to ingest the ugliness of what they lived on 12 August, 1976. As the film progresses, solid ties are built among Marlene and the survivors of Tal Al Zaatar, and they all become one great family.
Credits
Director

Eliane Raheb

Screenwriter

Eliane Raheb

Producer

Lara Abou Saifan , Nathalie Combe
About the Director
Lebanese director Eliane Raheb has directed several short and medium-length films, which have won awards at various festivals and have been broadcast on ARTE/ZDF, Al Jazeera and NHK. 'Sleepless Nights' (2012), her first feature-length documentary, screened in more than 40 film festivals and was ranked fifth in 'Sight and Sound' magazine's listing of the best documentaries of 2013. Raheb is a founding member of Beirut DC, where she established the Beirut Cinema Days film festival. She has taught documentary filmmaking at the Université Saint-Joseph since 2003 and is currently a guest of the prestigious DAAD arts academy of Berlin.
Production Company Profile
Itar Productions was established in 2007. The documentary production house is based in Beirut and Amman and works throughout the Arab region. In 2008, Itar produced two documentaries for 'Liban Mosaïque Eclatée' broadcast on ARTE/ZDF; Eliane Raheb's 'This Is Lebanon' (2008) and Nizar Hassan's 'South'. 'This Is Lebanon' received the Award of Excellence at the Yamagata International Documentary Film Festival and was aired on NKH and Al Jadeed TV. Itar produced 'Return to the Self' (2009) for the Al Jazeera documentary channel. Other projects include the cross-media documentary project 'Free Arabs'; 'The Confession', a feature documentary by Eliane Raheb; and 'Yasmine and Mohammed' by Regine Abadia.
Cosmographe Productions is an independent production company based in Montpellier. Created by Nathalie Combe in 2006, it focuses on film and video essays and its productions have been broadcast on European television. Cosmographe's work has won prizes at numerous festivals throughout the world, including Clermont-Ferrand, the Alternativa Festival, DOCSDF Mexico, the Stockholm French Film Festival, Zinebi Bilbao, IndieLisboa and RIDM Montréal. Selected filmography includes Yann Sinic's 'Svevo's Consciousness' (2000), 'Remorse' (2006), 'A World of One's Own' (2010), 'The Inner Worlds' (2012) and 'The City of Sunshine' (2013). Cosmographe is currently in development with Christophe Farnarier's 'El perdido' and Claudia Tosi's 'Women's Recipe for a Change'.
Beirut DC is a Lebanese cultural association, created in 1999 by a group of filmmakers and arts advocates. The association's main activities are producing independent documentaries; organising capacity-building workshops with young Arab filmmakers; and staging the biennal Beirut Cinema Days film festival as well as several Arab film weeks in Europe and in the Arab world. Beirut DC's latest productions include 'Seeing the Self' (2015), 20 short videos by Syrian and Lebanese youngsters; and Bassem Fayyad's 'Diaries of a Flying Dog' (2014), Zeina Sfeir's 'All About My Father' (2010) and Simon Al Habre's 'The One-Man Village' (2008), three feature-length documentaries. In 2015, the association held the Beirut Cinema Platform, three days of meetings, training and pitching for 15 Arab producers and 25 industry experts.
Contacts