The Devil's Drivers
Spring Grants 2018 - Post-Production Stage
Synopsis
The southern West Bank with its beautiful landscapes is home to many Palestinian Bedouins. In their midst, Israelis have built highly fortified settlements cutting them from their lands, leaving them with no other possibility but to work as migrant workers in Israel. In 2012, we started filming two Bedouin cousins smuggling workers with their jeeps into Israel – young gangsters, modern-day versions of Robin Hood. Years later the situation has become so difficult that one decided to quit. He opened his own construction business, but one night in 2016, he got a phone call asking him to cross the border once more. The very next day he was arrested by special forces under suspicion of aiding an ISIS-attack. The documentary spans an arch from the easy-going days of 2012 to the unbearable hardships during the Third Intifada, portraying two cousins in their struggle for independence in a world getting more dangerous day-by-day.
Credits
Director

Mohammed Abugeth, Daniel Carsenty

Screenwriter

Mohammed Abugeth

Producer

Daniel Carsenty
About the Director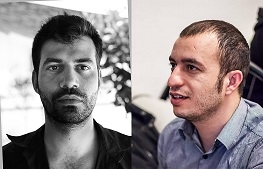 Daniel Carsenty was born in 1982 in Frankfurt. He graduated in 2014 from the Film University 'Konrad Wolf' in Potsdam with his first feature film, 'After Spring Comes Fall'. The film had its premiere in 2015 at the Hofer Filmfestspiele in Germany and was screened internationally at GIFF Göteburg and the Mostra in Sao Paulo. It was awarded Best Feature at the Vilmos Szigmond Festival in Hungary, Best Production at the Achtung Berlin Festival and won the Michael Ballhaus-Award for Best Cinematography at the First Steps Award.
'The Devil's Drivers' is his second feature film.
Mohammed Abugeth was born in Jerusalem in 1986. He studied computer sciences at the Al-Quds University in Jerusalem and worked as a production assistant for Idioms Films in Ramallah. In 2013, he moved to Germany to study International Media Management at the Academy of the 'Deutsche Welle', the German foreign channel, in Bonn and graduated in 2015 with a Masters of Fine Arts. Since then he has worked in Berlin as a TV freelancer. 'The Devil's Drivers' is his first feature-length film.
Contacts