The Days of Tyranny
Fall Grant 2011
Current project status: PRODUCTION
Synopsis
In a border town set in an unnamed Arab country ruled by a ruthless dictatorship, Hana, a mother and primary school teacher, is hiding her younger brother Ismail behind the walls of her house. As a journalist and opponent of the regime, he has committed an irrevocable crime: he published an article denouncing the state's repressive measures and the security forces crackdown on a popular uprising in the South. Henceforth, hunted down by security agents and threatened with death, Hana must help him out to escape the country. But in this country where everyone spies on each other and where suspicion and fear reign supreme, at school, as well as inside the household, Hana can only count on herself to face the risks of such an operation. While the attempts to get her brother out are failing, and the perspectives are shrinking, the trap is closing on Ismail and the family is breaking apart.
Credits
Director

Katia Jarjoura

Screenwriter

Katia Jarjoura

Producer

Antoine de Clermont-Tonnerre, Jennifer Kawaja, Julia Sereny
About the Director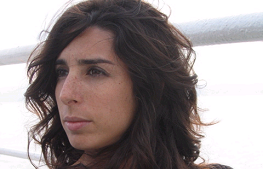 A Lebanese-Canadian filmmaker, Katia Jarjoura directed several documentaries in the Middle East (Lebanon sitting on a volcano - Goodbye Mubarak - the Road to Kerbala - Caught in Between), for the French-German channel ARTE. Katia also co-wrote several screenplays and directed two short films: In their Blood, which was screened in various international film festivals and won the France 2 award at the Brest film festival (2009) and Only Silence, which was broadcast on France 3. Her work focuses on war torn countries where she portrays people caught in the midst of political turmoil. Katia also orchestrated and several short films workshops in the Arab world (Iraq, Libya, Algeria) and trained emerging filmmakers. Today, Katia is based in Paris and she is developing her first feature film Days of Tyranny.
Production Company Profile
Founded in 1988 by Emmanuel Agneray and Jérôme Bleitrach, Bizibi Production has produced several short films and features, which have received internationally renown and critical acclaim. Its producers have a strong interest in the Middle East and have supported emerging filmmakers from the region, including Syrian director Meyar al-Roumi ('Rehleh') and Lebanese filmmaker Hany Tamba ('After Shave' (2005), winner of a César for Best Short Film). The company's debut feature, Keren Yadaya's 'Or (Mon trésor)' (2004), won the Caméra d'Or at the Cannes Film Festival. The duo have numerous feature projects in development, including 'Long Live Saddam'.
Since 1983, CINETELEFILMS has been one of the leading production companies in Tunisia and The Arab World by producing some of the biggest blockbusters in Tunisian and Arab cinema such as MAN OF ASHES, SILENCE OF THE PALACE, HALFAOUINE… Habib ATTIA, its managing director since 2007, produces narrative and documentary films dealing firstly with contemporary sociocultural issues. His latest ventures as main producer include 'We Could Be Heroes' (2018) premièred in HOTDOCS winning the Best international documentary award, 'Beauty and The Dogs' (2017) that premièred in Cannes UN CERTAIN REGARD official selection winning the Best sound creation award, 'Writing on Snow' (2017) opening film in Carthage Film Festival, 'Zaineb Hates the Snow' (2016), which premièred in Locarno and won Golden Tanit in Carthage Film Festival, 'Challat of Tunis' (2014), which opened the Acid Programme in Cannes Film Festival, won the Best First Film award in FIFF Namur.
MACT Production was founded by Antoine and Martine de Clermont-Tonnerre in 1992. Based in Paris, it is one of the leading production companies in France for art-house and international films. Over the years, MACT has produced or co-produced more than 40 award-winning feature and documentary films, which have been distributed worldwide. To name a few: Walter Salles's 'Central Station' (1998); Goran Paskaljevic's 'Cabaret Balkan' (1998); Raoul Ruiz's 'Comedy of Innocence' (2000); Eugène Green's 'Le Pont des Arts' (2004); Eran Riklis's 'Lemon Tree' (2006); and Fabio Grassadonia and Antonio Piazza's 'Salvo' (2013). More recently, MACT has contributed to the development and production of Palestinian projects, among them Rani Massalha's 'Giraffada' (2013) and Najwa Najjar's 'Eyes of the Thief' (2014).
Paris-based Tanit Films was founded in April 2014 by Franco-Tunisian producer Nadim Cheikhrouha. Tanit Films is the culmination of over twenty years of experience in the film industry. Through Tanit Films, Nadim has helped bring to life some of the most acclaimed and important films to come out of the Arab and African world in recent years including 'Hedi' and 'WeldI' (Dir: Mohamed Ben Attia), 'Fatima' (Dir: Philippe Faucon), 'Burning Hope' (Dir: Lotfi Achour) and 'Beauty and the Dogs' (Dir: Kaouther Ben Henia).
Awards and Festival History

Awards


Bourse d'aide au développement du scénario d'Amiens at the Festival international du film d'Amiens 2011 (France)
Won the Dubai Film Connection Award at theDubai International Film Festival 2011 (UAE)
Contacts