The Cave
Spring Grants 2018 - Development Stage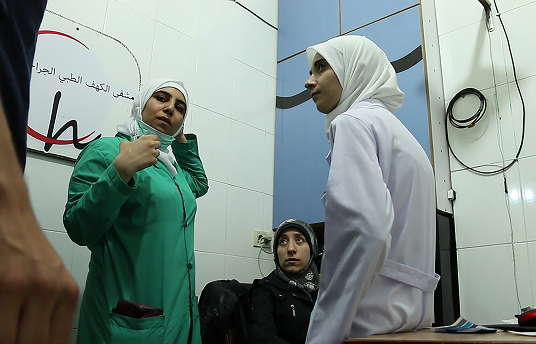 Synopsis
To escape the ongoing aerial bombardment on hospitals and chemical weapon attacks that killed many victims, some of the medical staff in Syria were forced to establish hidden subterranean hospitals in order to save the lives of their patients and avoid losses in medical staff and equipment. Alghouta in Damascus was the grounds of several such attacks with chemical weapons, with the staff there establishing a subterranean refuge, named "The Cave". Dr Amani was elected as the managing director of the hospital where she works with her colleagues, Dr Alaa and nurse Samaher, as well as 18 other women from a staff of 80 people. They all face death daily as they try to save the lives of the people of their town and to isolate and fortify the hospital against further attack.
Credits
Director

Feras Fayyad

Producer

Kristine Barfod
About the Director
Feras Fayyad is an Oscar-nominated director, who won an Emmy for Outstanding Current Affairs Documentary for 'Last Men in Aleppo' (2017). Fayyad was born in Syria in 1984 and holds a BA in Audio-visual Arts and Filmmaking from the international film and television school EICAR in Paris. He has directed and edited several films, both documentaries and fiction, and has received particular recognition for his work on contemporary Syrian issues and the political transformation of the Arab world. 'Last Men in Aleppo' (2017) won the international documentary competition at Sundance Film Festival along with more than 50 other international awards.
Awards and Festival History

Festivals


"BFI London 2019
IDFA 2019 (ranked #2 in Audience top 10 picks)
JCC 2019
Festival Dei Popoli 2019
Cinema Mediterraneen de Bruxelles 2019
Goteborg FF 2020"

Awards


"Grolsch People's Choice Documentary Award, TIFF 2019, Docs (WP)
Nominated for Best Documentary, Academy Awards 2020
"
Contacts
Director

Feras Fayyad

Company:

Danish Documentary

Email:

fayyadfiras@gmail.com