The Cave
Spring Grants 2018 - Development Stage
Current project status: POST-PRODUCTION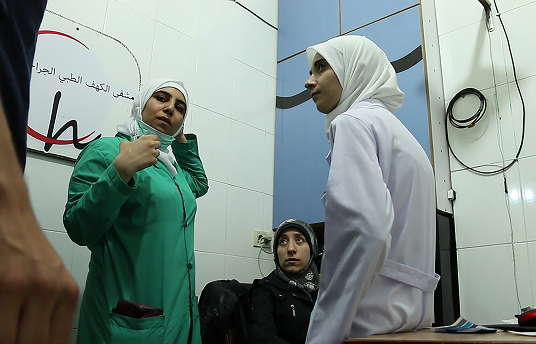 Synopsis
To escape the ongoing aerial bombardment on hospitals and chemical weapon attacks that killed many victims, some of the medical staff in Syria were forced to establish hidden subterranean hospitals in order to save the lives of their patients and avoid losses in medical staff and equipment. Alghouta in Damascus was the grounds of several such attacks with chemical weapons, with the staff there establishing a subterranean refuge, named "The Cave". Dr Amani was elected as the managing director of the hospital where she works with her colleagues, Dr Alaa and nurse Samaher, as well as 18 other women from a staff of 80 people. They all face death daily as they try to save the lives of the people of their town and to isolate and fortify the hospital against further attack.
Credits
Director

Feras Fayyad
About the Director
Feras Fayyad is an Oscar- nominated director, who won an Emmy for Outstanding Current Affairs Documentary for 'Last Men in Aleppo'. Fayyad was born in Syria in 1984 and holds a BA in Audio-visual Arts and Filmmaking from the international film and television school EICAR in Paris. He has directed and edited several films, both documentaries and fiction, and has received particular recognition for his work on contemporary Syrian issues and the political transformation of the Arab world. His films include 'Behind the White Color' (2014) and 'My Escape' (2016). 'Last Men in Aleppo' (2017), which won the international documentary competition at Sundance Film Festival along with more than 18 other international awards (Best World Cinema Minneapolis/St. Paul IFF, Audience Award Washington DC IFF, Best World Cinema Sarasota FF,and New Talent Award DocsBarcelona. He also recently produced, co-wrote and edited the short-film 'One Day in Aleppo' (2017) directed by Ali Alibrahim.
Production Company Profile
Danish Documentary Production was founded in 2007 by four award-winning directors and their producer. Today the company is run by director Pernille Rose Grønkjær: 'The Monastery – Mr. Vig and the Nun' (IDFA winner), 'Love Addict', 'Genetic Me', by director Eva Mulvad: 'A Modern Man' (CPH:-DOX competition 2017), 'The Good Life' (winner of Karlovy Vary, and Doc Alliance award), 'Enemies of Happiness' (Sundance & IDFA winner), by director 'Mikala Krogh: A Normal Life' (CPH: DOX Audience Award), 'Cairo Garbage', 'Everything is Relative', 'The Newsroom- Off the Record', and by producer Sigrid Jonsson Dyekjær, PGA: Ai Wei Wei - 'The Fake Case', 'Something Better to Come', 'Free The Mind', 'Bugs', 'Amateurs in Space' and co-producer on Ulrich Seidl's 'Safari'.
Contacts
Main Contact

Kirstine Barfod

Company:

Danish Documentary

Phone:

+45 60734555

Email:

kirstine@danishdocumentary.com