The Blessed
Spring Grants 2017
Synopsis
Algiers, a few years after the Civil War. Amal and Samir have decided to celebrate their 20th wedding anniversary in a restaurant. While on route to their destination, they trade their views on Algeria: Amal speaks of lost illusions and Samir about the need to cope with them. Meanwhile, the couple's son Fahim and his friends are wandering about in a hostile Algiers, the city that is about to steal their youth.
Credits
Director

Sofia Djama

Screenwriter

Sofia Djama

Producer

Serge Zeitoun, Patrick Quinet

Production Company

Liaison Cinematographique

Production Company

Liaison Cinematographique
About the Director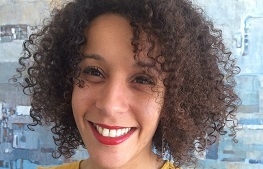 Born in Oran, Sofia Djama moved to Algiers to complete her Bachelor's degree in Literature. In the early 2000s, she began writing a collection of short stories in which Algiers serves as the main protagonist of each plot. 'Limply One Saturday Morning', an adaptation of one of these stories, was her first short film. It won wide acclaim and received two awards at the 2011 Clermont-Ferrand International Short Film Festival. This encouraged Djama to pursue her ambitions in the film industry. From then on, she has devoted herself to writing her first feature film, 'The Blessed', which is currently in post- production.
Awards and Festival History

Festivals


"Warsaw IFF 2017
Days of Cinema - Ramallah FF 2017
Arras FF 2017
Goteborg FF 2018, Ingmar Bergman Competition
MALMO Arab FF 2018
Fameck Arab FF 2018
Thubingen Arab FF 2018
San Francisco Arab FF 2018
Cinema de la Mediterrània i el Levant Cinebaix 2018"

Awards


"Orizzonti Award for Best Actress (Lyna Khoudri), the Brian Award and the Lina Mangiacapre Award, Venice IFF 2017, Orizzonti (WP)
Jury Special Mention and the Student Prize for First Film, CINEMED 2017
Bayard for the Best First Film, Namur IFF 2017
Best
Contacts
Main Contact

Serge Zeitoun

Company:

Liaison Cinematographique

Phone:

+33143570701

Email:

info@liaisoncinema.fr