Terra Firma
Fall Grant 2013 - Production Stage
Current project status: COMPLETED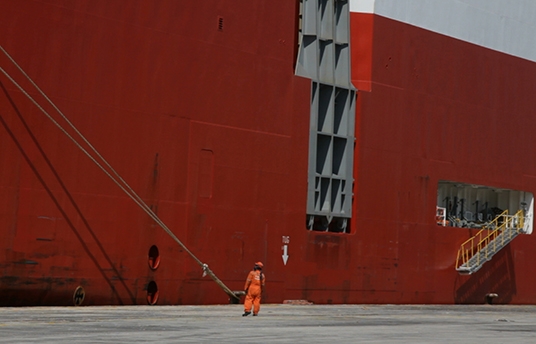 Synopsis
In a small commercial harbour in the south of France, two Moroccan sailors are watching over ferries that were abandoned by ship-owners. Young Syrians make a stopover to load their cattle, African traders prepare a convoy of second-hand vehicles. Men, machines, and animals transit through this space open onto the sea.
Credits
Director

Laurent Aït Benalla

Screenwriter

Laurent Aït Benalla

Producer

Pierre-Yves Cruaud
About the Director
Laurent Aït Benalla was born in 1976 to a Moroccan father and a French mother. At 17, he spent a year in Russia and went on to study film theory and Russian at the University of Montpellier, where he obtained a Masters degree. He started working as cameraman and sound operator, then directed several medium-length documentaries, including 'The Girls of the Moon' (2003), 'Marcel Hanoun chemin faisant' (2010), 'English Suite' (2011) screened on television and at festivals. 'O My Body!', his first feature-length film, received a grant from the Doha Film Institute.
Production Company Profile
Founded in 2012, Heolfilms is a French production company created for the development and production of art-house projects. It seeks to work with authors and filmmakers who are developing innovative cinematographic language. Films currently in development include Nora Martirosyan's 'Territoria' (supported by Fabrique des Cinémas du Monde, Open Doors, the Hubert Bals Fund, Villa Medicis and Directors Across Borders 2013) and Laurent Aït Benalla's 'Terra Firme' (supported by France Television, Region Languedoc-Roussillon, CNC and the Doha Film Institute).
Awards and Festival History

Festivals


Dubai International Film Festival 2016, Muhr Feature (WP)
Contacts