Taste of Cement
Spring Grant 2015 - Post-Production Stage
Current project status: COMPLETED
Synopsis
The Lebanese Civil War ended nearly a generation ago, but it remains far from forgotten, stamped in the memories of those who lived through it and those who have heard their tales, and perhaps indelibly inscribed on the city of Beirut, which to this day is repairing its destruction, even as it slowly heals its emotional scars. In one of the universe's twists of irony, many of the labourers rebuilding and renewing the city are Syrian; as they work to help Beirut reach the sky, their own villages, towns and cities are being razed, and their people dig frantically through rubble to find casualties they hope are still alive.

Laid over this is the prejudice to which these Syrian workers are subjected – they sleep underground among a building's foundations and face a curfew of 7:00pm; they are effectively disallowed from participating in the society they are helping to renew. With compelling camerawork and intimate stories from labourers, director Ziad Kalthoum captures the mind-numbing routine of climbing ever higher to pour concrete, only to return to the bowels of the Earth when the day is done. But more than this, and harsher, 'Taste of Cement' obliquely asks painfully melancholy questions: Who will rebuild Syria? And when?
Credits
Director

Ziad Kalthoum

Producer

Tobias Siebert, Eva Kemme, Ansgar Frerich
About the Director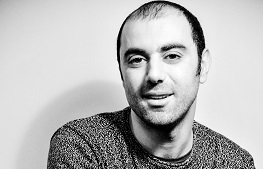 Ziad Kalthoum is a Syrian filmmaker currently living in Berlin. In his first documentary, 'Oh My Heart' (2009), he portrayed a group of Kurdish women who have chosen to live in a society without men. In 2012, during the outbreak of the Syrian revolution, he began working on his first feature film, 'The Immortal Sergeant', which premiered at the Locarno Festival in 2014. His latest work, 'Taste of Cement' won the Golden Sesterce for Best Feature Documentary at Visions du Réel in 2017.
Production Company Profile
Bidayyat for Audiovisual Arts was launched in Beirut in early 2013, with the aim to support and produce documentaries, short and experimental films, and to organise specialised training courses on documentary filmmaking. Bidayyat envisions a creative, independent, open and interactive cinematic and audiovisual culture that is influential in our societies and open to other societies.
Awards and Festival History

Festivals


Sarajevo Film Festival 2017, Kinoscope
DokuFest 2017
Visioni Dal Mondo 2017
CNEX Documentary Film Festival 2017, The Ashes of War

Awards


Sesterce d'Or for Best Feature Length Film, Visions du Reel 2017 (WP)
Special Mention, Valletta Film Festival 2017
Harrell Award Nomination, Camden Int'l Film Festival 2017, Features section
Emerging Int'l Filmmaker Award Nomination, Open City Docs Lon
Contacts