Stateless
Fall Grants 2016
Current project status: COMPLETED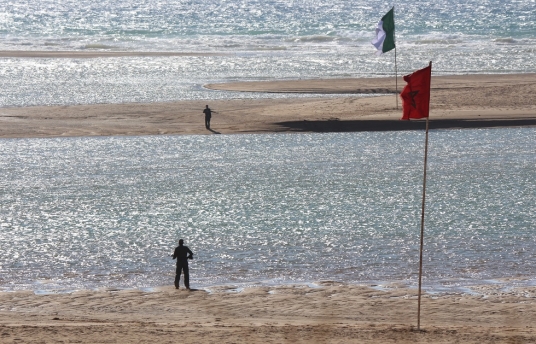 Synopsis
Henia will give anything to mend her broken past and find her mother, from whom she has been separated since the conflict between Morocco and Algeria during the Black Demonstration of 1975. After being given an opportunity to assist an elderly blind man, she accepts the offer and eventually finds herself agreeing to marry him. For Henia, this is a chance to get the necessary papers for her return to Algeria. For the old man, it's a chance to start over. For his son, it is a disgrace.
Credits
Director

Narjiss Nejjar

Screenwriter

Narjiss Nejjar

Producer

Lamia Chraibi
About the Director
Born in 1971 in Tangier, Morocco, Narjiss Nejjar has made numerous documentaries, authored a novel, directed a trilogy of short films and is a screenwriter. Her first feature-length narrative film, 'Les Yeux secs' (2003), was selected for the Quinzaine des Réalisateurs at the Festival de Cannes and received numerous honours, including the Bayard d'Or for Best Screenplay. 'Wake Up Morocco' (2005) is her second feature-length fiction film. After participating in 2010 in the Terminus des Anges Collective, she directed 'L'amant du Rif' (2012), which was screened in official competition at several festivals.
Production Company Profile
La Prod accompanies directors in the creative process, including Hicham Lasri, Narjiss Nejjjar, Ismaïl Ferroukhi, and Mohcine Besri. They co-produced Oliver Laxe's 'Mimosas' (Grand Prize of the Critics' Week at the Cannes Film Festival in 2016) as well as Balint Kenyeres' 'Tegnap' (Locarno Film Festival). They produced Talal Selhami's 'Achoura', a Moroccan fantasy film (Best Film Award - Hardline Festival, Special Mention of the Jury - Sitges Fantastic Film Festival). They also produced various feature film projects and television programs.
Awards and Festival History

Festivals


"Berlinale 2018 (WP), Forum
Afrika FF 2018 (Koln)
Thubingen Arab FF 2018
AUGEN BLICKE AFRIKA 2018 (Germany)
Africa in Motion FF 2018
Carthage FF 2018, Opening Night
Marrakech IFF 2018"
Contacts