Sofia
Spring Grants 2017
Current project status: COMPLETED
Synopsis
Sofia lives with her parents in Casablanca. Suffering from pregnancy denial, she finds herself breaking the law by giving birth to a baby out of wedlock. The hospital gives her 24 hours to provide them with the identification papers belonging to the father of the child before they will be forced to inform the authorities. Aided by her cousin Lena, the pair embark on a desperate attempt to locate the father and convince him to acknowledge the child. When Sofia's parents become involved, an uneasy agreement is reached with Omar, the suspected father, and his mother, deftly illustrating the class division between the two families.

The feature debut from Morocco-born, Belgium-educated Meryem Benm'Barek is a delicate portrait of contemporary Moroccan society. Expertly cast, Sofia (Maha Alemi), and her cousin Lena (Sarah Perles) give compelling performances that perfectly embody the two faces of modern Morocco— one traditional and reticent, the other outspoken and idealistic. Winner of the best screenplay prize in Cannes' Un Certain Regard section last year, 'Sofia' is a nuanced yet powerful study of feminism and the double standards that face women in a largely patriarchal culture.
Credits
Director

Meryem Benm'Barek

Screenwriter

Meryem Benm'Barek

Producer

Olivier Delbosc

Executive Producer

Christine De Jekel and Saïd Hamich
About the Director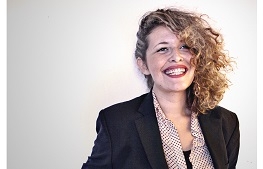 Meryem Benm'Barek was born in 1984 in Rabat. She studied Arabic Languages and Civilisations at the National Institute of Oriental Languages and Civilizations in Paris before entering the directing department at INSAS in Brussels in 2010. There, she directed five short films, notably 'Nor' (2013) and 'Jennah' (2014), which was selected for numerous international film festivals, and was considered for submission for an Academy Award in 2015. She also creates sound design art and has had regular exhibitions at the Victoria and Albert Museum in London. She is currently finalizing her first feature-length film, 'Sofia'.
Production Company Profile
Curiosa Films was born from Olivier Delbosc's desire to build a new production structure after almost 20 years at the helm of Fidélité Films with Marc Missonnier. Strengthened by his experience as a producer, which includes the production of more than 70 feature films of all genres in less than 20 years, Delbosc, with Emilien Bignon by his side, wishes to promote auteur films, both demanding and popular. He thus continues to collaborate with renowned authors such as Xavier Giannoli, André Téchiné and Bertrand Blier, while also developing new relationships with directors including Claire Denis, Martin Provost and Erick Zonca, among others, and producing first feature films by such new directors as Étienne Comar and Lou Jeunet.
Awards and Festival History

Festivals


"Fameck Arab FF 2018
Busan IFF 2018
Festival des Cinémas d'Afrique du Pays d'Apt 2018 (France)
Fameck Arab FF 2018
Mostra de Sao Paulo 2018
Marrakech IFF 2018
Bergen IFF 2019
Bratislava IFF 2019
Cairo IFF 2018
Philadelphia FF 2018
Sao Paulo IFF 2018
Two

Awards


"Best Screenplay, Festival de Cannes 2018, Un Certain Regard
Special Mention, TV5 Monde Award and Taher Cheriaam Award, Carthage FF 2018
New Voices/New Visions Grand Jury Prize, Palm Springs IFF 2019
FIPRESCI Prize, Thessaloniki FF 2018
Young Film Critic
Contacts
Main Contact

Lisa Verhaverbeke

Company:

Curiosa Films

Phone:

+33 1 55 34 98 08

Email:

lisa.verhaverbeke@curiosafilms.fr