Soaring Over Mayhem
Spring Grants 2017 - Production Stage
Current project status: PRE-PRODUCTION
Synopsis
In the brutal lands of northern Syria, 10- year-old bird enthusiast Rami struggles to survive alongside his overly adventurous elder brother Ibrahim. Due to Ibrahim's ambitions to make a quick profit and Rami's hope for a better life, the brothers are lured into taking on a dicey job in rural Syria. Complications arise when they roam dangerous conflict-ridden terrain, which not only compromises the job at hand, but also the safety of the boys' lives.
Credits
Director

Abdullah Al-Wazzan

Screenwriter

Abdullah Al-Wazzan

Producer

Abdullah Al-Wazzan
About the Director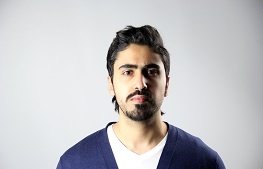 Abdullah Al-Wazzan is a director, producer and writer. Born in Kuwait in 1990, he graduated with a Bachelor of Architecture degree in 2012. He went on to create the animated short film 'Falafel Cart' (2014), which was selected for the Dubai International Film Festival.
Production Company Profile
Founded by Abdullah Al-Wazzan in 2011, RoyalTales is a film and entertainment production company based in Kuwait. Formerly known as Royal Pictures, the company was started as a means to create the short experimental animated film 'Falafel Cart' (2014). In 2016, it made a transition and became committed to producing compelling and cinematic content that would shine a light on Arab stories and have global appeal. In the years ahead, RoyalTales aims to collaborate with film institutes in the Gulf region and produce the short live-action film 'Soaring over Mayhem', as well as to produce a feature-length adventure-drama-fantasy film that is currently in development.
Contacts
Production Company

Royal Tales

Company:

Royal Tales

Phone:

+96560777062

Email:

studio@royaltales.com