Shelter
Spring Grant 2012 - Development Stage
Current project status: DEVELOPMENT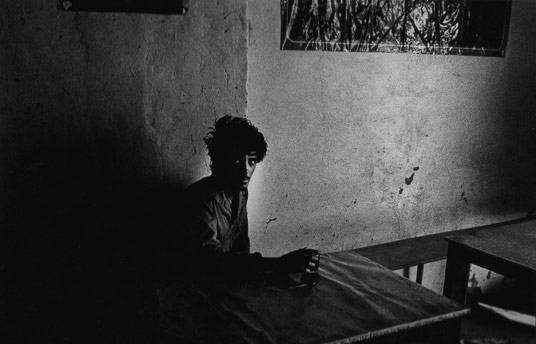 Synopsis
Ahmad struggles to survive in the ghettos of Beirut. He cannot remember his past or where he came from, and is tormented by a recurring nightmare in which he sees himself strangling a group of beautiful horses. One day, during a routine raid, he is arrested. His processing reveals that he is wanted for his part in a genocide 30 years earlier. Ahmad is convinced he could never have committed these terrible war crimes. With his lawyer, he must rebuild his memories in order to prove his innocence. As he is reunited with moments from his past and his idyllic childhood, he is reminded of things lost and the vile acts he had to commit while he was a soldier. He gradually becomes convinced that he is guilty of something awful, and that the mysterious horses in his nightmares may have been the key to his true sins all along.
Credits
Director

Kasem Kharsa

Screenwriter

Kasem Kharsa
About the Director
Kasem Kharsa is an Egyptian-American filmmaker and visual artist based between the Middle East and the USA. His films are inspired by his own fragmented past and are centred around memory, identity and survivorship. His work has been supported by both regional and international funding bodies, and he is a fellow of the Rawi Lab, the Sundance Directors/Writers Lab, and Binger Filmlab.
Production Company Profile
Founded in 2009 and based in Hamburg and Berlin, Beleza Film is composed of Jessica Landt and Falk Nagel. We produce films and transmedia projects with a focus on personal, character-driven stories. In 2010, Beleza Film presented the film workshop One Day in the West Bank for 10 young filmmakers in Palestine in co-operation with the Goethe-Institut Ramallah. The company produced Eva Pervolovici's short film 'Little Red' (2011), which was nominated for the Berlin Today Award, and co-produced Ali Aydin's 'Küf' (2012), which had its premiere at the Venice International Film Critics' Week and won the Lion of the Future – Luigi De Laurentis Award for a Debut Film. In 2014, Christian Mertens's 'Peter Nagel', a documentary about the painter, was released in cinemas, and 2015 saw the premiere of Cosima Lange's 'Hello I Am David', a documentary about Australian pianist David Helfgott. Beleza Film's current production and development slate includes Mariana Jukica's 'Coke.Champagne.&Cigarettes.' and 'Zoe's List' , Kasem Kharsa's 'I Dreamt of Empire', Lena Liberta's 'Play with Friends' and Anna Lott's 'Devilish Christmas'.
Contacts