Searching For Kikhia (working Title)
Spring Grants 2019
Synopsis
When director Jihan Kikhia was six years old, her father disappeared. He flew to Cairo and never returned. As a result, her mother began the search for him, launching her family into a maze of complex emotions and international politics. This documentary takes the audience on a raw and reflective journey as Jihan pieces together a father she barely knew, while unravelling his politically motivated disappearance, which is shrouded in mystery until this day. Mansur Rashid Kikhia, was the former foreign minister of Libya, ambassador to the United Nations, and a human rights lawyer. In 1980, he defected from the Libyan government, becoming the peaceful opposition leader to Qaddafi's regime. Kikhia was widely supported and unofficially crowned the next leader of Libya, but
his obsessive loyalty to his country and determination to reason with his "brother" Qaddafi led to his death. In 2012, Kikhia's body was found frozen and fully intact near Qaddafi's palace. As the director and main character, the film is navigated from Jihan's perspective, as she tries to understand the country that both created her father and also killed him. She approaches politics not as an external or distant subject, but as a lived experience that penetrates deeply into every human relationship— even between a little girl and her father.
Credits
Director

Jihan Kikhia

Screenwriter

Jihan Kikhia

Producer

Mohamed Soueid, Jihan Kikhia

Production Company

Desert Power LLC
About the Director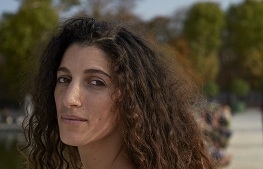 Jihan Kikhia is a director, producer, and writer. She holds a BA in International and Comparative Politics with a concentration in Human Rights, Development, Philosophy, and International Law from the American University of Paris, and an MA from NYU's Gallatin School of Individualized Study with a focus on art education, storytelling, and healing arts. Her body painting project & exhibit "Painted Stories, Spirited Bodies" was recognized in NYU's Confluence online magazine, and her article "Libya, my Father, and I" was published in Kalimat Magazine: Arab Thought and Culture, 2012. Jihan is committed to sharing and discovering how the creative process can be a vehicle for freedom and empowerment.
Contacts