School of Hope
Fall Grants 2019 - Post-Production Stage
Current project status: COMPLETED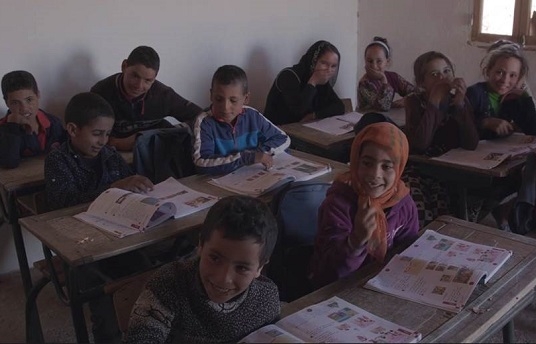 Synopsis
In the vast expanse of desert, East of Atlas Mountains in Morocco, seasonal rain and snow once supported livestock, but now the drought seems to never end. Hardly a blade of grass can be seen, and families travel miles on foot to get water from a muddy hole in the ground. Yet the children willingly ride donkeys and bicycles or walk for miles across rocks to a "school of hope" built of clay. Following both the students and the teachers in the Oulad Boukais Tribe's community school for over three years, 'School of Hope' shows students Mohamed, Miloud, Fatima, and their classmates, responding with childish glee to the school's altruistic young teacher, Mohamed.
Each child faces individual obstacles—supporting their ageing parents; avoiding restrictions from relatives based on traditional gender roles—while their young teacher makes do in a house with no electricity or water. The Oulad Boukais Tribe is just one of many rural communities worldwide struggling to establish adequate schooling for their children. 'School of Hope' conveys the passion and commitment of the tribe in securing academic opportunities for their children, despite the roadblocks of their environment and the apparent indifference of their government in this intimate and charming portrait of optimism in the harshest of conditions.
Credits
Director

Mohamed El Aboudi

Screenwriter

Mohamed El Aboudi

Producer

Pertti Veijalainen, Hind Saih, Lamia Chraibi, Lamia Chraibi

Executive Producer

Jody Allen, Ruth Johnston, Rocky Collins, Leila Amran
About the Director
Mohamed El Aboudi was born in Morroco and currently resides in Finland, where he was awarded in 2006 by the Finnish Broadcasting Company YLE in connection with the 10th anniversary of its multicultural services. His feature documentary, 'Dance of Outlaws', had its world premiere at Locarno International Film Festival, where it received the prize Premio Zonta Club Locarno. The film has also received several other prizes, including the Human Rights Award at DokuFest in Kosovo and Grand Prix of Mediterranean Issues at Primed in Marseille. Other works of Mr El Aboudi include the documentaries 'Fight of Fate' (2009) and Netizen Mo (2015).
Production Company Profile
Bellota Films is an independent production company, founded in 2009 by Hind Saïh and Dominique Barneaud, both of whom have a strong desire to create. With 20 years of production experience in France and abroad, we place innovative writing and procedures at the heart of our activity. Our films are passionate and motivated by the desire to share unique and surprising insights into the contemporary world and reality. At the heart of our activity is a selection of projects for television and cinema, whose writing is sometimes combined with animation, graphic arts or multimedia. Our core business is documentary, but we also develop works of fiction and feature films.
Contacts