Roqia
Fall Grants 2022 - Production Stage
Synopsis
In 1993, Ahmed becomes amnesic after a car crash. He returns to his village, where nothing seems familiar to him, neither his wife nor his children. His youngest is afraid of him because he can't see the face of his father—indeed, Ahmed's face was completely bandaged after his accident. Who are these strange visitors who come to torment him in the middle of the night, whispering litanies in an incomprehensible language? Why is the index finger of his right hand severed? And who is this neighbour, supposed to be his friend, but who makes him uncomfortable?

Present day, an old Raqi (a Muslim exorcist) is suffering from Alzheimer's. He has absences during Roqias, and his behaviour is increasingly strange as his memory deteriorates under the worried eyes of his disciple. Then, the right hand of the old Raqi, the one with the severed index finger, begins to tremble. Acts of extreme violence occur in the city, and one day, the possessed that they exorcise begin to speak a language they had never heard. While Ahmed, in the past, is more and more afraid of recovering his memory, and discovering who he really is, the Raqi's disciple, in the present, fears that the loss of his master's will cause the return of an evil locked up many years ago.
Credits
Director

Yanis Koussim

Screenwriter

Yanis Koussim

Producer

Fares Ladjimi

Production Company

Supernova
About the Director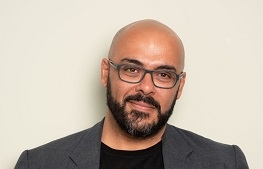 During his law studies, Yanis Koussim decided to become a filmmaker. After his graduation, and a brief stint by La Femis, he shot 'Le plus beau de tous les tangos du monde', 'Khti', and then 'Khouya'. 'Khouya' won awards at Locarno FF, and was selected for the International Short Film Festival of Clermont-Ferrand. He participated in the documentary experiment 'Un été à Alger', which premiered at Le palais de Tokyo in Paris. Yanis lives between Algiers and Sétif, where he founded Plateau19, an Algerian independent cinema workers collective, to improve the independent cinema in Algeria, and works on several feature film projects.