River of Toads
Fall Grants 2022 - Post-Production Stage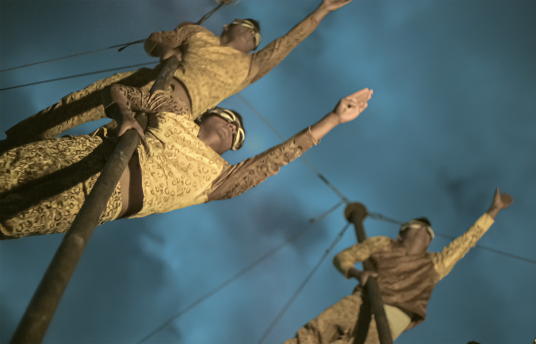 Synopsis
A sensorial portrait that follows the traditional healer Francisca Hernandez, an inhabitant of a small town in Veracruz, Mexico. She belongs to a family of healers, midwives and exorcists, who celebrate a ritual every year on the first Friday of March, dedicated to Holy Death. The inhabitants of the town say that on that date, at midnight, an energy portal opens where the forces of good and evil collide, and the ideal energy for various types of physical and spiritual healing is released.

This celebration takes place for 24 continuous hours in the Owl Charm Temple, built by Francisca and her family, in the middle of a nearby mountain. Various indigenous and peasant communities arrive there to celebrate the ritual every year. This place becomes a meeting point where food, conversations, and problems are shared, people sing and dance, the body is healed, and the soul is cleansed. The documentary mixes the experience of the ceremonies with an exploration of the magical realism of the territory, which preserves particular traditions and ways of life, where interaction with nature, myths and legends are part of deep Mexico.
Credits
Director

Juan Carlos Núñez Chavarría

Screenwriter

Juan Carlos Núñez Chavarría

Producer

Dalia Rocío Reyes Campos

Production Company

Chulada Films Production
About the Director
Juan Carlos Núñez Chavarría studied communication, audiovisual languages and photography. He has participated in international workshops focused on documentary films, such as the IDFA Academy, DocuLab, Conecta and BoliviaLab. He was the coordinator of the 'Ambulante' festival and collaborator of the German television ARDtv. He has been a fellow of the Ford Foundation and the National Fund for Culture and the Arts in Mexico. As a director, his debut film 'Swift Feet' toured more than 30 festivals in 15 countries and obtained 5 international distinctions. He currently collaborates with the Chilean association Red Mediación Artística, and directs the Kiltro Cinema forum.
Contacts