Railway Men
Spring Grants 2017
Current project status: COMPLETED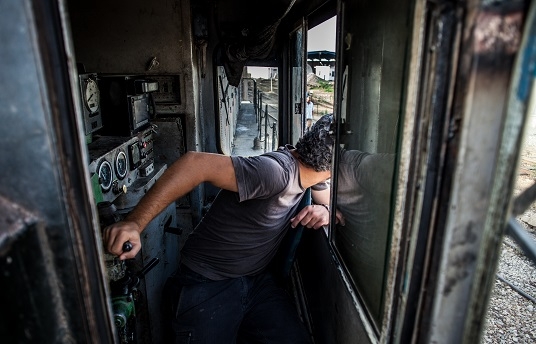 Synopsis
Conducting the trains of Line #1, the country's deadliest, five employees struggle with the darker side of Tunisia's national railway company in the aftermath of the Revolution. Workers rack up many hours of overtime, the worn-out locomotives are unreliable, and the safety of both the railway workers and passengers is put at risk. But how can these individuals confront these issues when they have neither the opportunity nor the freedom to speak up?
Credits
Director

Erige Sehiri

Screenwriter

Erige Sehiri

Producer

Palmyre Badinier, Dora Bouchoucha, Co-Producer Nomadis Images
About the Director
Erige Sehiri is a director and producer, based between France and Tunisia. After 'The Facebook of My Father' (2012), she directed her first feature-length documentary in 2018. Presented at Visions du Réel and IDFA, 'La Voie Normale' was released in Tunisian
theatres, where it remained for six weeks. Since 2011, she has also been active in media education for young people. She is the co-founder of the media group Inkyfada, member of the ICIJ, and head of Henia Production, through which she produces films.
Production Company Profile
Les Films de Zayna was established in 2008 by Palestinian producer and director Raed Andoni and French producer Palmyre Badinier. Based in Paris, the company develops and produces films with a strong focus on stories and talents from the Arab world.
Contacts
Main Contact

Palmyre Badinier

Company:

Akka Films

Phone:

(0) 22 345 11 70

Email:

palmyre@zayna.fr / p.badinier@akkafilms.ch