Railway Men
Spring Grants 2017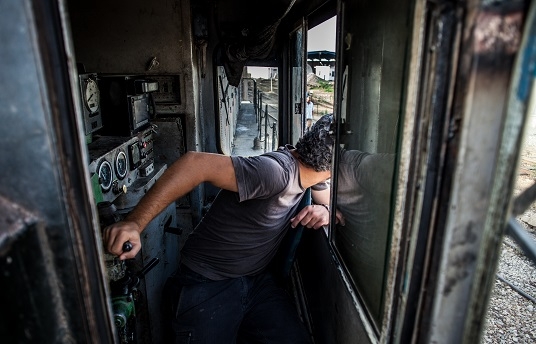 Synopsis
Conducting the trains of Line #1, the country's deadliest, five employees struggle with the darker side of Tunisia's national railway company in the aftermath of the Revolution. Workers rack up many hours of overtime, the worn-out locomotives are unreliable, and the safety of both the railway workers and passengers is put at risk. But how can these individuals confront these issues when they have neither the opportunity nor the freedom to speak up?
Credits
Director

Erige Sehiri

Screenwriter

Erige Sehiri

Producer

Palmyre Badinier, Dora Bouchoucha, Co-Producer Nomadis Images

Production Company

Les Films de Zayna

Production Company

Les Films de Zayna
About the Director
Erige Sehiri is a FrenchTunisian director and producer based in Tunis. Particularly drawn to the world of labourers, she places workers with invisible destinies at the heart of her films. In 2018, she made her first feature-length documentary film about Tunisian railway workers, reflecting their daily struggle against the failures of the national railways. 'La voie normale - Railway Men' was presented at Visions du Réel 2018, IDFA 2018 and received a mention by the jury at CINEMED. In 2021, for her first feature-length fiction film, she chose to direct young seasonal workers to pay tribute to the many female agricultural workers victims of truck accidents. Erige Sehiri is also the producer and manager of the production company Henia, where she develops author-driven films.
Contacts