Polaris
Spring Grants 2022 - Post-Production Stage
Synopsis
Hayat, an expert sailor in the Arctic, navigates far from humans and her family's past in France. But when her little sister, Leila, gives birth to a baby girl Inaya—their worlds are turned upside down. We witness their journey, guided by the polar star, to overcome the family's fate.
Credits
Director

Ainara Vera

Screenwriter

Ainara Vera

Producer

Clara Vuillermoz, Emile Hertling Peronard

Production Company

Point du Jour - Les films du balibari
About the Director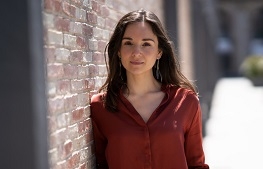 Ainara Vera is a director based in Spain. She studied Audiovisual Communication and obtained a master's degree in Creative Documentary Filmmaking at Pompeu Fabra University in Barcelona, supported by an artist grant. Her first short documentary, 'Sertres', was world premiered at Locarno Film Festival in 2014. She co-directed the film 'Demonstration'. Her mid-length film 'See you tomorrow, God Willing!' was world premiered at IDFA in 2017 and selected in a multitude of festivals. She worked for six years as First Assistant Director and editor on Victor Kossakovsky's films 'Varicella', 'Aquarela' and 'Gunda'. She was also the co-writer of 'Gunda', which premiered in Berlinale in 2020. 'Polaris' is her first feature film.
Contacts