Playtime
Spring Grant 2012 - Production Stage
Current project status: COMPLETED
Synopsis
Matthew lives with his mother, an army secretary, in Ahmadi, Kuwait. One night, she leaves him alone for a night out and he tries to fill his time with the company of Dalal, a local girl who lives around the corner. Dalal is attempting to sneak out herself and, after a brief evening with Matthew, proposes to 'borrow' his mother's car while she is out. Matthew, refusing to be left alone again, sneaks into the 'borrowed' car, and escapes with Dalal into Kuwait's underworld. On his secret night out, Matthew learns an inconvenient truth regarding his relationship with Dalal. Far removed from his residential neighbourhood, Matthew must now forge a way back home to his mother.
Credits
Director

Hamad Al-Tourah

Screenwriter

Hamad Al-Tourah

Producer

Nadia Al-Saqqaf
About the Director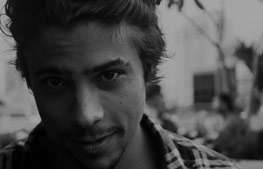 Hamad Al-Tourah is a Kuwaiti-American filmmaker and writer who obtained his bachelor's degree from New York University, where he studied journalism, cinema and Middle Eastern studies. In September 2013 he obtained an MFA from Tisch School of the Arts, Asia, in Singapore. His film 'Alice in the Meantime' (2010) was an official selection of the Palm Springs International Shortfest.
Production Company Profile
New York University Tisch School of the Arts Asia was founded in 2007. Since its inception, its students have produced more than 400 films, which have been showcased at film festivals including Clermont-Ferrand, Palm Springs, Pusan, Cannes, Vancouver, Berlin and Tokyo. Each graduating student receives $3,500 in production funds and full technical support for their thesis film. In addition, students have access to the latest camera equipment. New York University Tisch School of the Arts Asia offers four Masters of Fine Arts degrees within the Maurice Kanbar Institute of Film and Television, in Animation and Digital Arts; Dramatic Writing; Film; and International Media Producing.
Awards and Festival History

Festivals


Dubai International Film Festival 2013, Muhr Arab Short (UAE)
Contacts