Perfumed with Mint
Fall Grants 2021 - Production Stage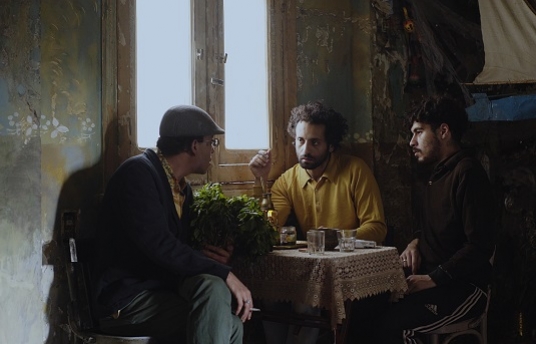 Synopsis
Alaa, a struggling doctor, gets a visit from a 'Sensor', whose superpowers can't help her find her missing son. They make a deal in which he searches for the young man in the hospital morgue where he works, and in return, she dries Alaa's love letter that has somehow been cursed to be soaked. In the hospital, he encounters his past—a ghost, a plant—he can't tell. He soon believes it is his old friend Mahdy with mint sprouting out of his head. Mahdy has brought trouble, and without much time to hesitate, Alaa has to run with his old friend rather than rat him out.

Alaa and Mahdy are without shelter, while the mint smell attracts forces that want to abduct them. Now the fugitives are chased throughout their deteriorating city. They are led through a series of disturbing encounters with former comrades. Those who were once bonded by devotion are now estranged, faithless, and reeking of mint. Will the two friends find a way out of this nightmare, endlessly chased by memories of loss? Or will they be left to dry, waiting and hiding in the streets where they once lived peacefully?
Credits
Director

Muhammed Mahmoud Hamdy

Screenwriter

Muhammed Mahmoud Hamdy

Producer

Farès Ladjimi

Production Company

Supernova Films
About the Director
Muhammad Hamdy is an Emmy Award-winning cinematographer from Cairo. He shot and co-produced the Oscar-nominated film 'The Square', which premiered at Sundance, and won the Audience Award for World Cinema, as well as the People's Choice Awards in Toronto (2013). Hamdy also shot 'We are the Giants' (2014), 'The Trials of Spring' (2015) and 'Olmo & The Seagull' (2015), which won the Best Nordic Dox Award at CPH:DOX, best documentary, Rio Film Festival. Hamdy studied filmmaking at New York Film Academy and has shot multiple TV Specials and commercials for various networks like BBC, HBO, Hulu, and Netflix.
Contacts