On Trials
Spring Grants 2016 - Production Stage
Current project status: PRODUCTION
Synopsis
The enacted. The robe. The absurd. Failed precedents. 'On Trials' is a film about realms of law that people encounter on a daily basis. In Egypt¨ the legal system is a labyrinth of enactments carried out by appointed actors. Judges in their robes. Lawyers wearing suits. Prisoners in white, blue and orange. Guards in dark uniforms guarding the courts. Cameramen taking quick shots of the ongoing performance. Tailors never running out of business. 'On Trials' is a work-in-progress that visits different threads of what makes up this realm of the law.
Credits
Director

Jasmina Metwaly, Philip Rizk

Screenwriter

Jasmina Metwaly, Philip Rizk

Producer

Philip Rizk
About the Director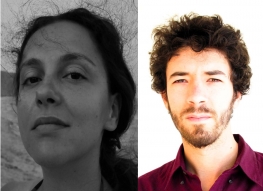 Born to an Egyptian father and a Polish mother, Jasmina Metwaly is a Cairo-based artist and filmmaker, and member of the Mosireen collective. She works in video and film, and has recently started drawing again. She likes to work with people and their histories, texts, archives, images, scripts and drawings. She is interested in how stories create stories, and how they leave the space of one reality and enter another, intertwining the boundaries of both. Rooted in performance and theatre, her works focus on process-based practices that have a social function that generates tension between participants and audiences.
Philip Rizk is a filmmaker and writer based in Cairo. Together with Jasmina Metwaly, he directed the feature film 'Out on the Street' (2015), which premiered at the Berlin International Film Festival and was part of the German pavilion at the Venice Biennale. Rizk is a member of the Mosireen video collective. His texts have appeared online, in journals and in collected volumes, including 'Uncommon Grounds – New Media and Critical Practices in the Middle East and North Africa' (IB Tauris, 2014). In November, 2015, Rizk's audio installation 'A Colonial Landscape' accompanied Tobias Zielony's photography exhibition of the same name at Fotohof, Salzburg. He is currently working with Metwaly on a new project entitled 'On Trials'.
Production Company Profile
Seen is a Cairo-based film house that produces and supports film and media work, fulfilling an active role in society's ongoing social and political discourse. Seen endeavors to work for the full representation, self-realisation and positive engagement of all groups who are marginalised, whether due to gender, urban centrism, economic restriction, or religion. Seen is interested and involved in the development, implementation, presentation and distribution of creative projects reaching beyond the common aesthetics and confinements of the moving image. Seen aims to open up cinema and filmmaking to innovative forms of interaction with the public, dealing with topics and stories that are either needed or suggested by society. We believe that cinema is the art of the visual story, and all our attention is tuned to promoting aesthetic quality and art in the stories we produce.
Contacts