Ya Hoota
QFF 2016 - Production Stage
Synopsis
A curious little girl is determined to save the Moon from a lunar eclipse, all to find out what happens next in the story her grandmother is telling. As there will be no moonlight if the eclipse takes place, the little girl searches for the mythological characters in her grandmother's stories in order to utilise their magical powers so that she can reach the Moon. Along with her cousin, she leaves the house in search of the Afternoon Donkey. She strongly believes in the mythical creature's existence, while her cousin wants to prove otherwise. Their grandmother reveals to them that she is in fact the Afternoon Donkey, and although she fails to help the girls reach the Moon, they accidentally get there by way of the Man on the Moon's fishing net, and learn that the Moon is in no danger from the whale. They later return home to tell their grandmother their story.
About the Director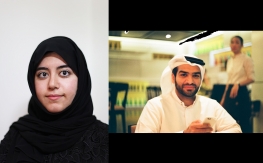 Latifa Al Darwish is an award-winning independent filmmaker and television producer, who uses animation and documentary formats to tell unheard local stories. She graduated from Northwestern University in Qatar with a BSc in Communication, and studied Culture and the Creative Industries at King's College London. Her films include 'Bader' (co-director, 2012), which was selected for the Doha Tribeca Film Festival and the Abu Dhabi Film Festival and 'Temsah' (2013), which also appeared at Abu Dhabi. She has also created animations for the @Wransade safe driving campaign and for @3yooznews with the team from Qartoon.
Abdulaziz Yousif is a cartoonist whose experience includes working on daily newspapers as well as television. His work has taken the form of sketches, illustration, fine art, animation, moving pictures, product design and graphic design. Creating cartoons is part of his daily life as a 2-D illustrator at Al Jazeera Children's Channel and Al Raya newspaper.
Contacts
Director

Latifa Al-Darwish

Company:

Phone Art Qatar

Email:

L.a.m.90@windowslive.com